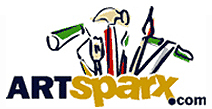 For years we have offered advice and how-to information to thousands of visitors. Now we move it to another level
San Francisco, CA (Vocus/PRWEB) April 01, 2011
Home design and decor website artSparx.com has unleashed a new online mentoring program. The program, which will go live on April 1st, allows interested customers to share tips and receive valuable advice from industry leaders.
Tobias Freccia, the founder and president of artSparx.com, hopes that this platform will enable users to find and communicate with like-minded individuals within the art and design community.
"We are excited to introduce this new channel at artSparx.com," Freccia explains. "For years we have offered advice and how-to information to thousands of visitors. Now we move it to another level, bringing professional experience and guidance to our customers in a tough economy—when many of them need it most. It's another way for them to connect at artSparx and get real value as a creative professional or craft enthusiast."
The program will make it even easier for artSparx customers to connect with design professionals. Users will appreciate new, easy to use features, the ability to post and add relevant comments in an open forum, ongoing dialogues with professional designers, and blog posts relating to the history of art and design, as well as current trends and designer tips.
"Whether you are looking for sound advice, career path guidance or just real stories from creative individuals looking to share their knowledge, you'll find it at the expanded artSparx community."
The program will also include regular features presented by interior designers ready to offer customers tips, tricks, and advice about design trends.
Ultimately, the program, which will expand upon artSparx.com's existing social media platform, will change the way artSparx visitors interact with each other. Freccia expects the new platform to benefit artists and craft enthusiasts alike, and he hopes the program will encourage a greater spirit of cooperation and mutual support within the design community.
For more information about the mentoring program or any of artSparx.com's products or services, call them at (415) 675-1174 or view them on the web at http://www.artsparx.com.
About artSparx.com
artSparx.com is an eCommerce home improvement and lifestyle network of websites that specialize in home decorating ideas, faux painting, Tuscan style decorating, and products and services for the design, home craft and construction community. artSparx.com serves the San Francisco Bay Area and beyond.
# # #