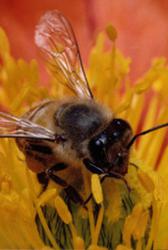 Bees pollinate our food supply, but we can't have them living inside our homes.
San Francisco, CA (Vocus/PRWEB) April 05, 2011
Most people aren't too bothered by bees when they're outside; but if the bees take up residence inside a home, it's a whole different story. Bay Area Bee Busters has announced a green solution to this nuisance problem. The company specializes in live honeybee removal and control, and they have the resources to handle any form of stinging insect found in California. Bee Busters are bee keepers and proud to feature humane removal practices. They retain the bees and use them for pollination of agricultural and food products.
"With spring upon us, the flowers bloom and flowers attract bees," said Bee Busters owner George Bristol. "Bees pollinate our food supply, but we can't have them living inside our homes."
If Bees or Wasps are poisoned inside a wall, attic, chimney, roof, or enclosed area of the home, they will leave behind comb or nest materials along with a big pile of dead and rotting insects. The sooner the problem is addressed, the less materials will require removal.
Proper removal of the entire colony is the key to permanently solving the problem. Improper removal can create infinitely bigger problems by attracting rodents and bugs, or structural replacement, or ongoing future vermin problems caused by melted wax, honey, or the dead poisoned insects.
Bees are an important part of the seed making process for many plants. As the stewards of this planet, humans have a responsibility to remove and relocate bees to new locations whenever possible.
Bay Area Bee Busters are experts in dealing with the Hymenoptera (social) Order of insects. This category includes Bees, Wasps (including yellow jackets), and Ants.
"Using our extensive experience working with bees, we are able to educate and advise our clients on the best solution for removal, prevention, and control" says Bristol. "Follow-up is extremely important. We work with you to ensure your problems don't recur."
For more information about bee removal or Bay Area Bee Busters' other services, call them at (408) 215-1275 or visit them on the web at http://www.bayareabeebusters.com.
About Bee Busters
Bay Area Bee Busters provides live bee removal throughout San Jose and the San Francisco Peninsula. They specialize in humane (bee and wasp) removal / extermination without the use of pesticides or other harmful chemicals. Bees are relocated / reused - not harmed. The experts at Bee Busters have over twenty-seven years of professional hive removal experience and 54 years' experience as Beekeepers. They provide 24-hour, 7-day-a-week, plus emergency Bay Area bee removal service.
###