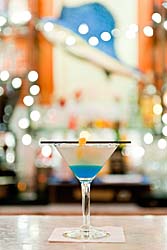 Plouf's Happy Hour allows people to sit outside and enjoy the weather and share cocktails, mussels, oysters, or calamari while talking 'off record' about a co-worker or boss.
San Francisco, CA (Vocus/PRWEB) April 21, 2011
The best happy hour in San Francisco is located in a small-open air sanctuary in the Financial District. Belden Place is where office workers go to rinse a micromanager's breath off their neck with a Plouf Cocktail, and business professionals who spent their lunch chewing on numbers grab a savory bite to eat and relax before heading home. Happy hour is even better now that Plouf has pumped up its mussels menu to include a blend of six different favorites and new recipes.
"Plouf's Happy Hour allows people to sit outside and enjoy the weather and share cocktails, mussels, oysters, or calamari while talking 'off record' about a co-worker or boss," laughed Plouf Head Chef Mark Papedis.
This San Francisco crab restaurant's unique happy hour runs weekdays from 2:30 to close. One of the favorites on the bar menu is a half pound of gourmet mussels for $8 prepared in one of the following six ways:

Anchor Steam Beer – Anchor Steam beer, leeks, garlic, fine herbs and croutons
Coconut Broth - Lime juice, garlic, cilantro, chili and coconut milk
Tasso Ham - Cajun spiced meat, white beverages, sweet peppers and basil
Mariniere - Shallots, lemon, white beverages and parsley
Plouf - Shallots, pastis, roasted garlic, chili places, fine herbs and cream
Poulette - Shallots, bacon, white wine, parsley and cream
Plouf's happy hour bar menu also features:
$1 Fanny Bay Oysters on the Half Shell - Champagne mignotte
$5 Pommes Frites (to add truffle oil and Parmesan add $3)
$7 Escargot en Persillade - Parsley, garlic, butter and white wine (6)
$7 Oysters Rockefeller - Creamed spinach, bacon, onion and bread crumbs
$7 Fried Oysters - Cornmeal crusted, chopped salad, tarragon aioli and Tabasco butter
$10 Fried Calamari - Fennel, scallions, lemon and sun dried tomato aioli
$12 Duck Liver Pate - Dried fruit compote and pickled mustard seed
$14 Fish and Chips - Pacific cod, pommes frites, remoulade and malt vinegar
$14 Kobe Beef Carpaccio - Fried capers, horseradish, lemon zest, onion and Parmesan cheese
The fish and chips at this San Francisco fish restaurant are made with hand-cut potatoes and local single-line-caught rock cod that is pan fried in grape seed oil so it is crisper and lighter than deep-fried fish.
Happy hour would not be nearly as happy without adult beverages. Plouf's happy hour offers guests $6 specials for many glasses of wine and specialty cocktails, such as a lemon drop, cosmopolitan, apple martini, black Russian, blanch house, bloody Mary, Plouf cocktail, vodka martini, well tequila margarita, or well rum mojito.
"Plouf offers a nice atmosphere, amazing food, and good deals on drinks," said Plouf bartender Antonio Guardado. "When I go out for happy hour, those are the things I look for."
For more information about Plouf's happy hour service, please call (415) 986-6491, visit their website at http://www.ploufsf.com, or come to the restaurant located at 40 Belden Place in San Francisco.
About Plouf Seafood Bistro
Plouf Seafood Bistro, located in the Financial District, is one of San Francisco's best seafood restaurants. Plouf specializes in mussels, oysters, unique appetizers, salads, seafood dishes, and meats. "Plouf" is the sound a stone makes when it drops into a French stream. Chef Mark Papedis studied cooking in France, served as chef at the Ahwahnee Dining Room in the world-famous Ahwahnee Hotel in Yosemite National Park for three years, and served as chef at Wente Vineyards in Livermore for the last five years.
About Belden Place
Sixteen years ago while people were avoiding looking down, and certainly not walking though, the garbage alley named Belden place—Erik Klein and Oliver Azancot saw an opportunity. They imagined the passageway filled with tables and chairs, great food and wine, and sparkling lights—the kind of setting friends would gather for a magical evening of epicurean delight.
It was here they opened Café Bastille in 1990, and over the years the addition of other great bistros like Plouf and B44 have transformed this former garbage alley into a piece of Old Europe—a world-class dining experience, a San Francisco landmark where residents and visitors from all over the world come to raise their forks, glasses, and spirits and celebrate the good things in life at San Francisco's best restaurants.
# # #