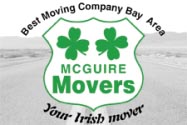 San Francisco, CA (Vocus/PRWEB) February 22, 2011
People looking to save on costs on moving services have the option of doing all the packing and unpacking themselves, and only using a moving company to transport their belongings. McGuire Movers, voted Best San Francisco Moving Company by SFGate raders in 2010, offers a handy countdown on how to get ready for a move.
6-8 weeks before the moving date: getting organized.
This is the time to start sorting possessions and separating out the items that will not be coming to the new place. "You can give them away, donate them to charity or organize a garage sale," says Laura Costello of McGuire Movers. This is also a good time to begin packing items that have not been used in a while and will not be needed prior to the move.
4-5 weeks before the moving date: getting specific.
At this point, packing specifics start getting narrowed down. Families should come to an agreement on which items will be taken or left behind. This is also a good time to begin to notify change of addresses with the post office, schools, doctors, banks, credit card companies, subscriptions and others. During this process, all the items that the movers will take should be clearly labeled and organized.
2-3 weeks before the moving date: getting ready.
Final notifications should be done, such as contacting utility companies and cable companies to arrange for disconnection of utilities and services and reconnection at the new location.
The day of the move: getting going.
"Keeping a checklist of everything you need to do before you move will make your move much easier and a lot less hectic," recommends Costello. "Do a final check of your packed belongings and the house to make sure you haven't forgotten or missed anything."
For more information about McGuire Movers' San Francisco moving services, phone them at (415) 651-4386 or visit their website at: http://www.mcguiremovers.com.
About McGuire Movers San Francisco
McGuire Movers is a licensed and insured San Francisco moving company that specializes in all types of moves: residential moving, office and commercial furniture moving, large and small. With over 15 years of experience moving in the San Francisco Bay Area, McGuire Movers combines experience and professionalism with the luck and charm of the Irish. McGuire also offers free estimates.
McGuire Movers serves the San Francisco Bay Area, including the communities of Atherton, Berkeley, Burlingame, Daly City, Emeryville, Marin, Mill Valley, Oakland, Palo Alto, Piedmont, Redwood City, San Francisco, San Mateo, San Rafael, Sausalito, Tiburon, and Woodside.
# # #