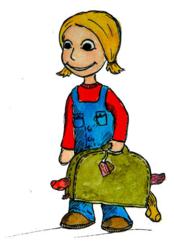 I have been seeing an increase in the number of new and returning patients who are experiencing mental and physical pain or have become debilitated by a shrinking sense of self-worth and importance
San Francisco, CA (PRWEB) November 12, 2011
As people become more and more frustrated with their lives, they frequently begin to question their purpose in the world, says American College of Traditional Chinese Medicine alumnus and practicing Fort Collins acupuncturist Kristie Steinbock. Fortunately, that dissatisfaction can be used as a catalyst for needed change. To illustrate that phenomenon, Steinbock has just published a new book that is sure to capture the hearts of kids and grownups alike. "Teffie's Travels," is an inspirational tale about the search for meaning.
"I have been seeing an increase in the number of new and returning patients who are experiencing mental and physical pain or have become debilitated by a shrinking sense of self-worth and importance," says Steinbock. "This book is intended to help readers on the road to restoring their sense of purpose, much in the same way acupuncture restores the flow of qi in our bodies to help us return to good health and peace of mind."
In this first volume of "Teffie's Travels," Steinbock's young protagonist is unable to locate her heart. Determined to get it back, she searches exotic places around the world. During her adventures, she meets all sorts of interesting people and creatures who teach her important truths about life. It is a story everyone can appreciate.
"How many of us have searched for our hearts at differing points or milestones in our lives?" asks reader Lori Daigle. "Reading this story reminded me of that little curious adventurer that has lived inside of me for as long as I can recall. I cheered for her to discover her inner beauty (her heart) and found myself remembering to look for mine daily."
"There are several things I carried away from reading your book...Freedom to seek adventure, openness to seek input from others, and most importantly that each of us is complete already," says reader who goes by the initials S.S.
"Teffie's Travels" features colorful illustrations by illustrator and painter Chelsea Glanz. The children's book can now be purchased online at teffiebook.com. New authors Steinbock and Glanz are at work on two more volumes of Teffie's adventures.
For more information about Red Dragon Acupuncture in Fort Collins, Colorado, call (970) 224-2510, or visit the clinic on the web(at)reddragonacu(dot)com.
About the American College of Traditional Chinese Medicine
The American College of Traditional Chinese Medicine (ACTCM) has been at the forefront of educating students in Traditional Chinese Medicine in the Bay Area since its inception in 1980. Their two degree programs—the Master of Science in Traditional Chinese Medicine (MSTCM) and the Doctorate of Acupuncture and Oriental Medicine (DAOM)—provide an exceptional professional education.
ACTCM's community clinics serve as a diverse and demanding training ground for their students, while providing affordable health care services to the community. ACTCM's certificate programs in Tui Na and Shiatsu and its introductory classes for the public offer additional educational opportunities for current ACTCM students, healthcare professionals and the general public.
Bay Area acupuncture treatment, as taught by ACTCM, restores balance and health, and is used for everything from chronic pain to drug dependence. It is also effective for allergy relief, weight loss, pain management and as a fertility treatment.
During treatment practitioners insert sterile, disposable needles at acupuncture points along the meridians. Because of the thin and pliable needles used, most people feel little to no discomfort. Patients typically leave feeling energized or relaxed with a deep sense of well-being.
For more information about the American College of Traditional Chinese Medicine (ACTCM), call Alissa Cohan at (415) 355-1601 x 12.
# # #