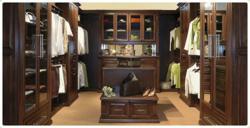 A new season commands a new outlook and a new wardrobe demands a new closet system.
San Francisco, CA (Vocus/PRWEB) April 15, 2011
Spring weather is upon San Francisco and with that comes Spring Cleaning. Closet Innovations, a San Francisco custom closets company, offers seven easy steps for cleaning a closet and wardrobe to allow for more free time and less stress during the spring months.
"A messy, unorganized wardrobe can produce undue stress in anyone's life if left addressed," said Chris Hall of Closet Innovations. "If you have a lot of things, I recommend updating your inefficient storage spaces."
Closet Innovations offers seven steps to make a closet and wardrobe space much more accessible and organized:
1. Empty out the entire closet.
2. Sort items and accessories by what is desirable and undesirable.
3. Use cleaning products such as wood oils, glass cleaner and cloth to clean and sanitize the area.
4. Inventory clothes and accessories.
5. Get rid of old hangers.
6. Place items in closet according to desirability.
7. Consider having Closet Innovations design, manufacture and install a new closet organizer, customized to your specific wardrobe and accessory needs.
"Now is the perfect time for a fresh start. A new season commands a new outlook and a new wardrobe demands a new closet system," said Chris.
Close Innovations, a Division of Innovative Design Group, offers free in-home consultations and expert designs to anyone interested in updating their closet system. Their products include a wide variety of materials made for any budget, from white melamine to the highest quality hand rubbed mahogany.
Closet Innovations is also offering a 25% discount on purchases. Chris encourages individuals to visit their showroom at the San Francisco Design Center, Galleria Building to see what type of San Francisco custom closets they have to offer.
For more information about Spring Cleaning tips or any of Closet Innovations' products, call them at (866) 486-1089, visit them on the web at closetinnovations-ba.com or visit their showroom located at the San Francisco Design Center, Galleria Building, 101 Henry Adams Street Suite 236 in San Francisco.
About Closet Innovations
Closet Innovations is a design consultation, manufacturing and constructing company for custom closets, San Francisco custom cabinets, home entertainment centers, kitchen cabinets and home office design in San Francisco. Since 1995, Closet Innovations has provided the San Francisco Bay Area with high quality and custom closets and designs.
###