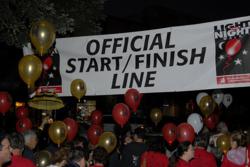 San Francisco, CA (Vocus/PRWEB) April 14, 2011
The Leukemia & Lymphoma Society (LLS) is offering North Bay business leaders, executives and their peers a complimentary breakfast seminar to learn about how they can become involved with the annual Light The Night Walk to benefit blood cancer research. The North Bay Corporate Breakfast will be held on Thursday, May 12th from 8:00 am to 9:00 am at the Doubletree Hotel in Rohnert Park. During this brief program, attendees will join the Corporate Walk Chair Wayne Fairchild, CEO of Redwood Regional Medical Group, and the event's Executive Leadership Committee to find out how to engage their companies as participants and sponsors in the North Bay cancer walk, receive updates on ground-breaking LLS-funded research, and hear firsthand how LLS has made an impact on the lives of patients and their families.
"Company executives hear firsthand from our Corporate Walk Chairs and Executive Committees the positive impact this event has had on their companies in terms of team building, being socially responsible and supporting the local community," explained Tiffany O'Neil, the Senior Campaign Manager for the North Bay Light The Night Walk. "The event has a great vibe and business leaders walk away feeling energized and excited about participating in the program."
The Light The Night Walk, held across North America each fall, brings families, friends, co-workers and corporations together to raise funds for people battling blood cancers. The community joins together for food, live music and entertainment. When the sun goes down, the Walk begins and the night sky lights up with red, white and gold balloons carried by teams and individual walkers to honor cancer survivors and those who have lost their battle. The thousands of shining balloons "light the way to a cancer cure."
Participants in the North Bay leukemia walk will gather at Courthouse Square in Santa Rosa on Saturday, October 15th from 5:00 pm to 8:00 pm and walk for two miles. Participation builds team spirit, sense of camaraderie, and sends a strong signal that a company cares about the health and welfare of the community.
Light The Night is a great corporate team-building event for companies. Participating companies include Redwood Regional Medical Group, St. Joseph Heath System-Sonoma County, Kaiser Permanente Santa Rosa, Burson Marstellar, Marsh Risk & Insurance, Bare Escentuals, Silicon Valley Bank, Wells Fargo, Takeda, Umpqua Bank, and Genentech.
To register for the corporate breakfast seminar on May 12 at the Rohnert Park Doubletree Hotel, please visit http://www.lightthenight.org/sf/, call (707) 303-4800, or email Tiffany O'Neil at Tiffany.O'Neil(at)LLS(dot)org.
About Light The Night Walk
The Leukemia & Lymphoma Society's Light The Night Walk funds lifesaving research and support for people battling cancer. Corporate sponsorship highlights a company's dedication to giving back to the community. Friends, families and co-workers form fundraising teams and millions of consumers help by donating at retail outlets. These efforts culminate in inspirational, memorable evening walks in over two hundred communities each fall across North America.
Three walks will take place in the Bay Area. The North Bay fundraising Walk will be held on Saturday, October 15, 2011, from 5:00 pm to 8:00 pm. Participants start at Courthouse Square in Santa Rosa. The San Francisco walk will be on Thursday, October 20, 2011, from 5:00 pm to 8:00pm starting at Union Square. The East Bay walk will take place on Saturday, October 22, 2011, from 5:00 pm to 8:00 pm starting at Civic Park in Walnut Creek.
This North Bay team-building event is open to the entire community—children, adults and seniors are all welcome. This is a casual fundraising walk with no fitness requirements. Every walker is encouraged to become a Champion for Cures by raising $100 or more to help support the work of hundreds of the world's best and brightest researchers in their search for better therapies and cures for leukemia, lymphoma and myeloma.
About The Leukemia & Lymphoma Society
The Leukemia & Lymphoma Society (LLS), headquartered in White Plains, NY, with 68 chapters in the United States and Canada, is the world's largest voluntary health organization dedicated to funding blood cancer research and providing education and patient services. The LLS mission: Cure leukemia, lymphoma, Hodgkin's disease and myeloma, and improve the quality of life of patients and their families. Since its founding in 1949, LLS has invested more than $750 million in research specifically targeting leukemia, lymphoma and myeloma.
For more information about blood cancer, visit http://www.LLS.org or call the LLS Information Resource Center (IRC), a call center staffed by master's level social workers, nurses and health educators who provide information, support and resources to patients and their families and caregivers. IRC information specialists are available at (800) 955-4572, Monday through Friday, 9 a.m. to 6 p.m. ET.