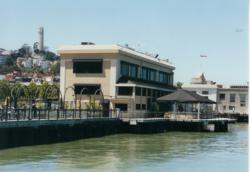 San Francisco, CA (Vocus/PRWEB) April 21, 2011
There are few places in San Francisco that sit directly above the water, and even fewer that command views of both the majestic Bay Bridge and the soaring towers of the Financial District. The Waterfront Restaurant has it all. This Easter the Waterfront Restaurant is also offering one of the most unique menus around with items such as filet of beef hash, crab hash and Maine lobster sandwiches.
Easter Sunday Brunch will be held from 10 am to 3 pm, and the menu will include:
APPETIZERS, SALADS & SOUP

Soup of the Day
Lobster Macaroni and Cheese, Black truffle
Dungeness Crab Cakes, Lemon aioli
Grilled Pancetta Wrapped Prawns. Arugula
Monterey Bay Fried Calamari, Rock shrimp, fennel and spicy arugula
Sautéed P.E.I. Mussels, Green grapes, cherry tomatoes and grappa broth
Heirloom Beets, Warm herb goat cheese, frisee, Upland & Sherry vinaigrette
Locally Farmed Mixed Green Salad, Dijon tarragon vinaigrette
EGG DISHES

Filet of Beef Hash, Cage free poached eggs
French Toast, Fresh strawberries, raspberries, blueberries and Chantilly cream
Shellfish Omelet, Maine lobster, Dungeness crab, vegetables and hollandaise
Dungeness Crab Hash, Cage free poached eggs
SIGNATURE ENTREES

Niçoise Salad, Grilled Hawaiian Ahi tuna and butter lettuce
Seafood Cobb Salas, Dungeness crab meat, prawns, avocado, boiled eggs, cherry tomatoes, scallions and Myer lemon vinaigrette
Dungeness Crab Sandwich, On grilled Acme sourdough bread
Maine Lobster Sandwich, Avocado, tomatoes and bacon on toasted brioche
Seafood Pasta, Handmade garlic and lemon linguini, lobster, rock shrimp, mussels, Dungeness crab, and clams with a white wine lemon garlic broth
Pan Seared Wild Alaskan Halibut, Mashed potatoes and mushroom leak broth
Grilled Hawaiian Escolar, Crab mashed potatoes, seasonal vegetables and nage
"SRF" American Wagyu Flat Iron Steak, Seasonal vegetables, mashed potatoes and demi glace
Pan Seared Jr. Rocky Chicken, Caramelized leek and thyme jus
KIDS MENU

Buttered Pasta
Chicken Strips and Fries
Fish and Chips
For more information about Easter brunch at the Waterfront Restaurant call (415) 992-7207, go to http://www.waterfrontsf.com, or visit the San Francisco bay view restaurant at Embarcadero Pier 7 @ Broadway in San Francisco.
About The Waterfront Restaurant San Francisco
The Waterfront Restaurant is a San Francisco seafood restaurant that specializes in seafood and fine dining in San Francisco. The Waterfront Restaurant is an excellent venue for San Francsico private parties.
###