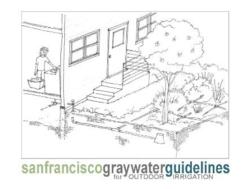 We intend to irrigate edible plants with our system. It may take a few years for things to mature--growing edible plants in San Francisco's climate is always a challenge--but we have hopes for a cornucopia.
San Francisco, CA (Vocus/PRWEB) April 19, 2011
This is a rags to riches story: how discarded water from people's laundry (that's the rags part) can turn into edible riches. As part of their commitment to green architecture and sustainable design, Robert and Christine Boles of San Francisco's Beausoleil Architects are participating in a pilot program by the San Francisco Public Utilities Commission called Laundry to Landscape.
The object of the program is to teach people how to install greywater systems that utilize laundry wastewater to irrigate landscaping, thus reducing water and sewer use. The program is aimed at single and duplex homeowners, and includes a short training class and subsidized sale of the necessary piping equipment. Robert and Christine Boles are planning to use their home's laundry water to grow fruit in their garden.
"We intend to irrigate edible plants—a small fruit orchard and blueberry bushes—with our system. It may take a few years for things to mature (growing edible plants in San Francisco's climate is always a challenge!) but we have hopes for a cornucopia," says Beausoleil's Robert Boles.
Greywater systems involve the use of wastewater from bathroom sinks, showers, bathtubs and washing machines to irrigate landscaping (and in some cases for toilet flushing). Wastewater from toilets, utility sinks and kitchen sinks is not included, as it contains much more bacterial and chemical components and needs more sophisticated treatment. Water from bathroom sinks, washing machines, showers and tubs, given the use of nontoxic cleansers, is considered safe for use in landscaping, as long as some basic precautions are taken with how the water is distributed.
The state has even legalized 'simple' systems, allowing for the use of laundry water or single shower water without requiring a permit. The laundry water system, which will be used in the pilot program, simply collects water from the washing machine in a drum that is connected to a hose. More complex systems are also possible with a permit.
The program is being run by the Urban Farmer Store of San Francisco, and they are looking for 150 volunteers for the pilot program. Eligible participants must live in a one- or two-unit San Francisco home with a washing machine on-site that is at the level of or higher than the yard. The benefits include a $95.00 subsidy on parts and training by experts. This will cover most of the costs for many people. Interested parties can fill out an application on their website. The first class is on Saturday, April 30, at 10:30 AM, at the Urban Farmer Store in San Francisco.
For general information about greywater, visit http://www.greywateralliance.org or http://www.greywateraction.org.
For more information about the Boles' participation in Laundry to Landscape or any of Beausoleil Architects' services, call them at (415) 335-4379 or visit their website at http://www.beausoleil-architects.com.
About Beausoleil Architects
Beausoleil Architects is a San Francisco green architect that specializes in residential green building, and sustainable architecture in San Francisco, as well as historic design. In addition to practicing sustainable architecture in the San Francisco Bay Area and the United States, Beausoleil Architects has completed projects as far away as China, Italy, and Australia. They are a San Francisco Certified Green Business.
# # #