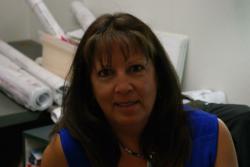 Our clients are why we're here. If I don't have the answer, I'll quickly find out who does.
San Francisco, CA (Vocus/PRWEB) April 22, 2011
Hallmark Construction announced this week it has brought on Ginger Reed to its growing project team. Reed joins Hallmark as a project administrator at the company's Santa Clara headquarters and will be integral to successfully delivering projects throughout Northern California. Reed's addition is part of Hallmark's commitment to maintaining personalized service to its clients in the face of strong growth.
"Every client expects great quality and service," said Ned Cain, Hallmark's Vice President of Construction and a senior project manager. "Every client Hallmark has is a priority and Ginger has proven she has the tools to exceed clients' expectations."
Since the late 80's, Reed has demonstrated a knack for providing her clients with reliable service. She is enthusiastic about being the point-person on construction projects saying: "Our clients are why we're here."
Reed prides herself on having the answers for her clients but concedes with a grin, "If I don't have the answer, I'll quickly find out who does." Reed has worked with large general contractors delivering notable projects throughout the Bay Area for more than 20 years and has a keen understanding of what is needed to satisfy her clients.
"We take pride in the idea that Hallmark is large enough to get the job done, but small enough to care," added Cain. "We dedicate whatever resources necessary to affirm with each client that their needs are a priority." Reed will help the leading general contractor sustain what clients have come to expect from Hallmark—for the company to exceed their expectations.
For more information, contact Kristina Corrall at (408) 899-8258 or visit Hallmark's website at: http://www.lshallmark.com.
About Hallmark Construction
Hallmark Construction is a leading Northern California general contractor with a well-earned reputation for quality, integrity, and client loyalty. The company specializes in new building construction, whether it is tenant improvement in Palo Alto, technology sector construction in Silicon Valley, sustainable, or green building in Monterey, or new office construction in Pleasanton. Hallmark Construction maintains projects up and down Northern California's coast, including Monterey and the San Francisco Bay Area, while operating from its Santa Clara headquarters and its satellite office in Pacific Grove, just outside of Monterey.
###