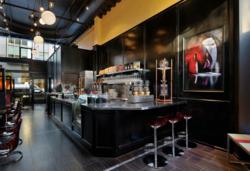 We are changing the city's view on a wine bar with excellent coffee. Wine and coffee are a pair that we choose to focus on and excel at
San Francisco, CA (Vocus/PRWEB) April 20, 2011
Located centrally on Market street in downtown San Francisco, coffee and wine bar Ma'Velous invited all coffee and wine aficionados to come celebrate their grand opening on Friday April 1. The grand opening showcased Ma'Velous' incredible eco-chic, relaxing interior, their library of art and design publications, their extensive wine list, and their professional baristas who will handcraft to perfection any cup of specialty coffee.
"We are changing the city's view on a wine bar with excellent coffee. Wine and coffee are a pair that we choose to focus on and excel at," says Phillip Ma, owner of Ma'Velous.
Their international wine list features 50 varieties of sustainably grown wines by the bottle, and 25 by the glass concentrating on boutique wineries throughout the US, and countries such as France, Germany, Italy, Spain, Argentina, and New Zealand. Selections include varieties of reds, whites, rosés, and sparkling wines, as well as Ports to be paired with desserts.
Their artisan coffee brews are handcrafted by professional baristas with care and perfection. This is not a typical café. Each coffee can be brewed in six different ways and this allows aficionados to taste the full complexity of each coffee, its natural sweet, fruity, acidic or buttery finish without cream or sugar.
Ma'Velous' restaurant, lounge and bar hybrid captures what dinning in San Francisco should be all about, stylish drinking, great live music, delicious food and hip company. Stop by today to hear about happy hour specials and live music schedule.
For more information about the grand opening of Ma'Velous or any of Ma'Velous' products or services, call them at (415) 912-1039, view them on the web at http://www.Ma'Velous-sf.com, or visit them in person at 1408 Market Street in San Francisco.
About Ma'Velous Wine and Coffee Bar
The vision of Ma'Velous is to share some of the best ingredients the earth has to offer, by bringing roasted coffees and boutique wines from around the world to San Francisco, and by utilizing their vast culinary resources in Northern California. The select seasonal menu concentrates on celebrating the small sustainable farms, roasteries and wineries. Ma'Velous serves all San Francisco communities.
# # #