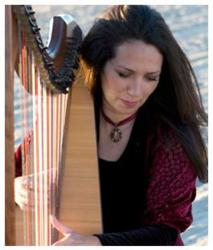 Lisa Lynne's story is remarkable and the way she tells it brings both laughter and wisdom
San Francisco, CA (Vocus/PRWEB) April 02, 2011
San Francisco harpist and founder of "Harps for Hearts," Lisa Lynne, will present her music and story during the 22nd Annual Society for the Arts in Healthcare Conference on Friday, April 15 at the Hyatt Regency San Francisco Airport in Burlingame. The conference, which will showcase best practices, model programs, and cutting-edge research in the field of arts in healthcare, will be conducted from April 13-16 at the same location.
"I was at this conference in Canada a few years back," said Lynne. "It's truly a gathering of hundreds of generous gifted people doing tireless work. They come together to share ideas about how important creativity is to the human soul, especially in times of challenge. We learn from each other and from the experts during workshops and the keynote speakers. The inspiration that you feel around these special people is contagious and renewing. These people should all have halos and wings!"
The well-known composer and owner of her own record label "Lavender Sky Music" will share the story of her interactions with a Columbine High School student following the tragedy. She will explain how she was inspired to make her mission in life to empower those with health or physical challenges through the therapeutic joys of making music. Lisa loads her van with 17 Celtic and lap harps to share her music and interactive experience in hospitals, schools, cancer centers and healing retreats.
"Lisa Lynne's story is remarkable and the way she tells it brings both laughter and wisdom," said Lynn Joseph, Ph.D., Keynote Speaker, Psychologist and Author. "She is truly an inspiring speaker as well as a brilliant Celtic harpist who can get anyone to play the harp."
In addition to performing on April 15, she will also have a booth in the exhibitor hall on April 14 and 15. Founded in 1991, the Society for the Arts in Healthcare is dedicated to advancing the arts as integral to healthcare by demonstrating the valuable role the arts play in the healing process, advocating for the integration of the arts into the environment and delivery of care within healthcare facilities, and assisting in the professional development and management of arts programming for healthcare populations, and providing resources and education opportunities to arts in healthcare professionals.
Benefits of attending the conference include gaining strategies to successfully position arts in healthcare programs in hospitals and hospices, and networking with colleagues from around the globe including Australia, Ireland, Netherlands, United Kingdom and more. Additionally, attendees will discover world-class arts in health programs and research from over 100 presentations, posters and performances featuring music, dance, drama, design and visual and literary arts.
For more information about Lisa Lynne's upcoming performance at the Society for the Arts in Healthcare Conference or any of Lisa Lynne's music and activities, call her at (818) 388-1396 or visit her on the web at http://www.LisaLynne.com.
About Celtic Harpist Lisa Lynne:
Lisa Lynne is a San Francisco harpist who has sold over one million recordings of her combined 17 albums. The multi-instrumentalist and performer has gained worldwide recognition for her original music featuring her Celtic harp and specialization in traditional acoustic folk instruments. Lynne has produced 17 albums and has achieved placement in the top 10 and 20 of the Billboard New Age music charts Lynne has released several internationally recognized recordings on the prestigious Windham Hill and New Earth Record labels, while simultaneously running her own label, Lavender Sky Music. Lynne is able to perform her harp music at San Francisco private events, memorials and weddings in San Francisco. Lynne is the founder and director of "Harps for Hearts," an innovative music program that places live music and musicians in several California hospitals, including City of Hope National Cancer Center and several Kaiser Permanente locations. She has received multiple grants and media recognition for her "Hands-on-Harps" interactive programs. A video of Lisa's "Harps for Hearts" program link can be seen at: http://www.youtube.com/watch?v=Cfs0RE-nKuc.
# # #