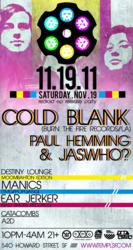 San Francisco, CA (PRWEB) November 16, 2011
On November 19, Temple Nightclub San Francisco will celebrate the release of Redroid EP, which includes Cold Blank's original track, Redroid, along with four remixes of the song from Temple Music Group artists: Jaswho?, David Isaac and Deejaytone, Soulspin and Manics.
Cold Blank is Christopher Gaspar Isla and Manuel Luquin. The LA-based producers, DJs and label heads of Burn the Fire Records whose remixes and original work have charted Beatport (beatport.com) countless times.
"Our main thing is electro-house and heavy bangers," said Gaspar. "Our raunchy baselines get in there and really do damage on the dance floor. We're a lot different from a house DJ—we create a high energy, rave-like, underground sound that generates a high level of energy, just like a live performance."
Bangerzonly.com says that "over the last two years Cold Blank has risen to fame thanks to countless dance floor destroyers and the ability to work a crowd. Songs such as Back2Back, Los Angeles and L.E.D have captivated audiences with intense drops and their signature baselines."
Cold Blank is white hot right now. They have played shows with notable names like Porter Robinson, Bart B More and PeaceTreaty. The duo is wrapping up a new full length album which will be released in 2012.
"Between managing a successful label and producing a full-length album, the duo has managed to squeeze in DJ gigs all over the county, and have now set their sights on Temple Nightclub's stage," said Chris Sanders, Temple Music Group's Label Manager.
The doors open at 10 pm on November 19 and close at 4 am on November 20, 2011. Admission is free before 10:30 pm with RSVP made at http://www.templesf.com/calendar. Limited pre-sales tickets can be purchased for $10 to 15 at http://coldblank1119.eventbrite.com/. The door price the night of the event is $20.
Cold Blank fans who want to be the first to know about upcoming events are encouraged to "like" them on Facebook at: https://www.facebook.com/coldblank?ref=ts.
For more information on Temple Music Group, contact Chris Sanders via email at chris(at)templesf(dot)com.
For more information about Temple, contact the San Francisco live music and event space at (415) 529-4307 or visit Temple online at templesf.com.
About the Zen Compound
The Zen Compound is an entertainment complex housing Temple Nightclub, Ki Sushi, TMG Recording Studios, Temple TV and ZCFM Radio, all with a sustainable focus.
Temple Nightclub is one of the most popular San Francisco dance clubs. The San Francisco event space is a true architectural gem. Filled with original unique antiquities from Southeast Asia, Temple offers 20,000 square feet of space, which can accommodate 1,100 guests on two levels. Its four beautiful rooms, each with its own unique atmosphere, can be booked separately or in combinations.
Because it is surrounded by some of the city's finest hotels and is just two blocks from Moscone Center, Temple is one of the most convenient San Francisco event locations for wedding receptions, benefits, fashion shows, product launches and corporate functions.
The sales staff can assist with full event production and party planning—from small intimate dinners to luxurious larger-than-life gala events. Food service can be arranged from local restaurants and caterers or from Temple's in-house sushi restaurant, Ki.
Ki is the premier San Francisco sustainable sushi restaurant and izakaya bar, and executive chef Isamu Kanai is the creative force behind the success of the restaurant. Isamu's wealth of knowledge and expertise, along with his creative approach to fusion and fine dining, ensures each client is satisfied with every event.
###