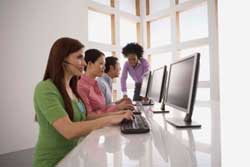 The San Francisco Bay Area is a hot bed for technology services and solutions
San Rafael, CA (Vocus/PRWEB) April 13, 2011
With the need for businesses to keep up with technology, most companies rely on IT consultancy and services. As the economy in the Bay Area improves, demand has increased, so Marin Technical Resource has expanded its data center and disaster recovery services to customers from their data center in Fremont, California.
"The San Francisco Bay Area is a hot bed for technology services and solutions," said Eric Grotjahn of Marin Technical Resource. "Businesses are expected to have robust and extensive networking solutions to meet their needs. Make sure your business can keep up now and into the future with Marin Technical Resource."
To protect themselves and ensure minimal disruption of service in the event of a catastrophic event, most businesses require advanced services such as disaster recovery (DR) planning and implementation testing, and they are requesting more advanced DR planning and solutions from Marin Technical Resource. With the expansion of their Bay Area data center operations, the company can now better provide these services.
Marin Technical Resource has not only installed more servers, they have added higher capacity and higher performing servers to store DR images. This allows more innovative and efficient IT solutions for today's companies.
For more information about Marin Technical Resource and its services, call them at 415-233-6041 or visit them on the web at http://www.technicalresource-marin.com.
About Marin Technical Resource
Marin Technical Resource is an affordable Bay Area IT consulting and IT service provider for small businesses. Its experts will work with clients to create a customized technology solution for their specific business's needs. They have expertise in providing the Bay Area technology services, network analysis, design, and deployment for any kind of business.
###