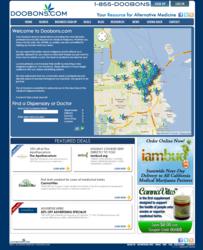 If sales are down one day, a dispensary can post a coupon or special offer instantly in the desired location or geography to get people in the door.
San Francisco, CA (PRWEB) December 24, 2011
Technology is finding a welcome home in the medical cannabis industry—a rapidly growing market segment that has motivated entrepreneurs to create new products and services as dispensaries pop up at an astounding pace. Creating local awareness of new businesses and ensuring medical marijuana patients (the end user, so to speak) know where to find them has been a challenge until now. Using advanced geotargeting technology, Doobons.com, the revolutionary online medical marijuana resource, is able to show patients the medical marijuana dispensaries and resources in their local area when they enter the site.
Doobons.com's technology works at both fixed locations and on mobile devices. When a patient activates their device, such as a computer or smart phone, the service provider identifies the user's location via IP address and/or GPS tracking. Doobons.com then finds the resources in the vicinity of the user and plots the locations on a map.
To increase their visibility, businesses can enhance their listing for a small monthly fee. Paid customers can also post coupons and special promotions (deals) on Doobons.com's Deals page using a back-end tool. The self-serve feature allows businesses to post their own deals at any time, so they can post "daily deals" or instant campaigns.
"If sales are down one day, a dispensary can post a coupon or special offer instantly in the desired location or geography to get people in the door," said John, Owner. "The advertiser also defines the geography where the deal appears, so patients don't have to sift through ads outside of their geographic location when looking for a bargain."
Patients can also type in the name of a city in the search tool to learn about special offers in other areas. "If you are heading to Santa Barbara for the weekend and would like to check out the local strains or take advantage of a 2-for-1 deal offered in the area, Doobons.com will show you what's available so you can plan ahead," said John.
Doobons.com was designed to be convenient and to appeal to everyone—including those who are new to the world of medical cannabis. While most of today's online medical marijuana directories are designed for patients who already know at least something about using medical marijuana, Doobons.com is designed to be user-friendly for patients of all ages and experience levels.
Doobons.com is more than just another online medical marijuana directory. The site's News, Resource, and Blog pages provide valuable information and advice for patients and caregivers. The information posted helps new patients learn about the ins and outs of the world of medical marijuana, and existing patients stay abreast of developments.
For more information about Doobons.Com, call (415) 524-8099 or go to Doobons.Com online. The best way to stay informed about developments about Doobons.com is to like them on Facebook at http://www.facebook.com/pages/DOOBONSCOM/211376972233726 and follow them on Twitter at http://twitter.com/#!/search/realtime/doobons.com.
About Doobons.Com
Doobons.Com is an online medical marijuana resource for prospective and current medical cannabis patients, caregivers and industry professionals. The medical cannabis resource site is designed be a comprehensive source of information for everyone from novice medical cannabis users to experienced industry professionals. Doobons.Com is discreet, safe and professional.
###