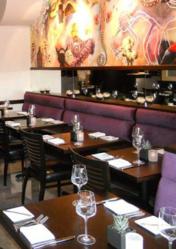 At Pasión we make every meal fun and interesting with specialty items you won't find anywhere else.
San Francisco, CA (Vocus/PRWEB) April 21, 2011
Pasión Modern Latin Cuisine, The romantic San Francisco restaurant located in the Inner Sunset District, is celebrating Easter with its special twist on the traditional Easter brunch. Their signature ceviche and raw oyster bars will be available, as well as their legendary lamb meatballs; frittatas with chorizo, peppers, onions and cheese; Pasión Eggs Benedict with Serrano ham and piquillo pepper hollandaise sauce; huevos rancheros; gourmet breakfast quesadillas; a fully stocked bar; and bottomless glasses of sangria and mimosas.
Brunch is 10 am to 3 pm on Easter Sunday April 24, 2011. Reservations are highly recommended as this popular restaurant fills up quickly.
Pasión is the creation of executive chef and owner Jose Calvo-Perez, whose expertise is melding flavors and techniques from Central and South America into his modern cuisine.
"Pasión Restaurant brings an understanding of the exquisite flavors and techniques of all of Latin America to his kitchen at Pasión, offering modern day twists and preparations for the entire Bay Area, especially on Easter when brunch can get bland," said Calvo-Perez. "At Pasión we make every meal fun and interesting with specialty items you won't find anywhere else."
From an extensive selection of ceviche dishes to seafood dishes with Caribbean, South and Central American inspiration, Pasión explodes with flavor and excitement with every bite. The 60-seat restaurant brings the enthusiasm and liveliness of South American, Central American and Latino Caribbean countries, pulling influences from Peru, Argentina, Uruguay, Brazil, Mexico, Puerto Rico, Cuba and Spain.
For more information about Pasión Restaurant, phone them at (415) 424-4656, view their website at http://www.pasionsf.com, or visit their restaurant located at 737 Irving Street, between 8th and 9th in San Francisco's Inner Sunset District.
About Pasión Restaurant
Pasión Restaurant is an energetic yet romantic restaurant in San Francisco that specializes in modern Latin cuisine in San Francisco. The owner and executive chef, Jose Calvo-Perez, is well known for his three locations of award-winning Peruvian restaurant Fresca. Pasión specializes in ceviche and artfully prepared seafood, beef, chicken, lamb and duck dishes. Seafood specialties include Ahi tuna, shrimp, calamari, oysters, mussels, and clams. Dinner service begins at 5 pm, daily. The restaurant is closed on Tuesdays.
###