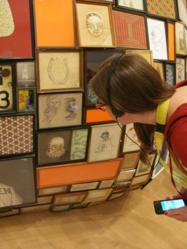 Its intimate and comfy ambiance facilitates a relaxed and creative work environment that increases our productivity.
San Francisco, CA (PRWEB) October 18, 2011
"Absolutely gorgeous," is how C. Jason Reinier, founder of digital content creation company Earprint Productions, describes Greater San Francisco music studio Live Oak Studio in Berkeley, where Reinier and his wife and business partner, Catherine Girardeau, record Earprint's mobile tours for smartphones. The tours are available for free in the iTunes store, and feature audio content with accompanying images.
Reinier and Girardeau call themselves "digital storytellers." This year, Earprint Productions has recorded mobile tours at Live Oak Studio for artwork and sustainability features of San Francisco Airport's Terminal 2 (SFO T2), Art at Cowboys Stadium (just in time for the Super Bowl), and art installations at San Francisco Museum of Modern Art (SFMOMA).
"We choose Live Oak because it offers us a small experimental space that is ideally set up for recording," said Reinier. "Its intimate and comfy ambiance facilitates a relaxed and creative work environment that increases our productivity. There are places to sit outside with great views of the San Francisco Bay and Golden Gate Bridge."
The San Francisco International Airport's newly remodeled Terminal 2 (T2) added five new public artworks to its world-class collection of 20 works, which were recently reinstalled by the San Francisco Arts Commission. Earprint Productions was recruited to create a mobile tour of the artwork. Almost simultaneously, SFO hired Earprint to record a mobile tour of its new sustainability features. Downloads of the popular high-fidelity tours—which are accompanied by music, sound effects and images—are available for free on iTunes or at sfartscommission.org/pubartcollection.
The audio tours also feature images of the art being discussed. "Although it is ideal to take the tour while you are looking at the art, the mobile tours we create allow you to experience the tour without being there," said Reinier.
Earprint Productions also partnered with Live Oak Studio earlier this year to record mobile tours of the world-class Art at Cowboys Stadium collection in time for the 2011 Super Bowl XLV. Reinier and Girardeau have also collaborated with SFMOMA to create mobile tours for the museum's permanent collection and special exhibitions—most recently for the blockbuster exhibition "The Steins Collect" and for "Richard Serra Drawings."
For SFMOMA's tours, Earprint Productions has brought a range of character actors into Live Oak Studio, including local luminaries like performance artist and author Beth Lisick, narrator and beatboxer Kid Beyond and actor and director Charlie Varon. Earprint Productions also records tours in Spanish at Live Oak, including children's tours for the Smithsonian Institution's National Museum of the American Indian.
"It is fantastic working with such talented people," said Live Oak Studio owner Priscilla Rice. "It's exciting to be part of the production of these mobile tours."
Reinier was referred to Live Oak Studio years ago when he was a voice lead and sound designer working on the Sims, a popular series of life simulation games by EA Games in Redwood Shores. The project, SimAnimals, which was released in early 2009, required Reinier's team to cast and direct humans making animal sounds.
"As you can imagine, it was a very fun project," said Reinier "We worked at Live Oak Studio for four or five months with actors from Los Angeles and the Bay Area—and Priscilla Rice made us feel right at home."
About Earprint Productions
Earprint Productions is a San Francisco digital content creation company that specializes in exhibit design, mobile tours and apps, scriptwriting for the museum community, and multimedia interpretation for tourist attractions and corporate clients. Earprint Productions' consultation services help clients implement, manage and update their media content from idea to finished product, regardless of story line or content delivery method.
C. Jason Reinier is an award-winning sound designer and composer who, since founding Earprint Productions 15 years ago, has created immersive soundscapes for a variety of museums, including the San Francisco Museum of Modern Art (SFMOMA), The Oakland Museum of California, The Exploratorium, the Chattahoochee Nature Center and The Smithsonian Institution's National Museum of the American Indian in New York City.
Catherine Girardeau is an award-winning media producer, journalist and writer who pioneered, along with SFMOMA, their MUSE-award winning podcast series, SFMOMA Artcasts. Her audio tours can be heard at many major American museums and attractions, while her radio reporting and features have been aired on National Public Radio, American Public Media, AARP Radio, and public radio stations nationwide. She's produced audio and video podcasts for the Fine Arts Museums of San Francisco, SFMOMA, HP, Google, Intel Corporation, MBA Podcaster, PodTech Network, and others.
For more information about Earprint Productions, please call (415) 821-4264 or visit them on the web at earprint.com.
About Live Oak Studio
Since 1984, Live Oak Studio, a greater San Francisco music recording studio, has recorded music legends, including Destiny's Child, Boyz II Men, Will Smith, Alicia Keys, Tony! Toni! Tone! and E-40. The Berkeley studio utilizes a Digidesign Pro Tools HD-based system to record breakthrough and award-winning albums for artists all of genres. The East Bay recording studio specializes in audio, voiceover, live band recording, audiobook and narration recording services. The studio can also help artists with mixing, editing and creating audiobooks, podcasts and meditation CDs.
For more information about recording at Live Oak Studio, please call (510) 423-0771 or visit them on the web at liveoakstudio.com.
###