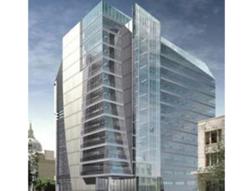 We are proud to help the City of San Francisco in its march towards energy independence.
San Francisco, CA (PRWEB) November 03, 2011
BASS Electric, the premier Bay Area commercial solar contractor, announced this week it has started installing the first 50 of the 688 solar panels that will ultimately be installed on the LEED Platinum-certified San Francisco Public Utilities Commission (SFPUC) headquarters located at 525 Golden Gate in the Civic Center. The sleek, glass building is a global model for green commercial building construction.
"We are proud to help the City of San Francisco in its march towards energy independence," said Jennifer Trevino, COO of BASS Electric. "No city is more progressive and innovative than San Francisco, and the SFPUC Building is a monument to our success."
In addition to the clean energy generation through photovoltaic panels, the new SFPUC headquarters features of the building include 100 percent onsite waste water treatment, installation of low flow toilets and waterless urinals, 45 percent daylight harvesting, and the consumption of 55 percent less energy and 32 percent less electricity demands from the main power grid.
The building has not only received the LEED Platinum rating from the United States Green Building Council (USGBC), new SFPUC headquarters was honored with two awards last spring from the American Institute of Architects' (AIA) San Francisco chapter.
Last year BASS Electric, the premier completed the installation of 28,000 Suntech PV modules over San Francisco's Sunset Reservoir. The installation, which covers an area equivalent to twelve football fields, became California's largest solar PV system and the nation's largest municipal solar installation.
For more information about BASS Electric's commercial solar maintenance service, or to learn more about BASS Electric's other services, call (415) 578-9894 or visit them on the web at http://www.basselectric.net.
About BASS Electric
Established in 1996, BASS Electric is a commercial electrical contractor that specializes in Bay Area commercial solar design, solar Installation, infrared scanning and testing, commercial electrical maintenance, and arc flash coordination studies. BASS Electric serves the entire San Francisco Bay Area.
###