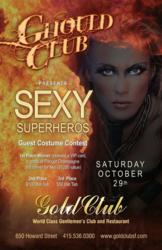 San Francisco, CA (PRWEB) October 22, 2011
It's a bird, it's a plane, it's super erotic women dancing onstage at the Gold Club—the plush San Francisco adult entertainment venue everyone is stark raving mad about. Changing its names for Halloween weekend, the "Ghould Club" invites ladies and gentlemen who appreciate powerfully sexy women to its Sexy Superhero costume and Halloween party on Saturday, October 29 from 7 pm to 3 am.
This special evening's performers will come out on stage sporting tight Spandex outfits that leave nothing to the imagination and walk off completely nude—making imaginations completely unnecessary.
"This Ghould Club Sexy Superhero party is going to be incredible," said Axel Sang, who represents Gold Club. "This is going to be the sexiest Halloween party in San Francisco, with hot ladies, cold drinks, fine food and surprises."
Exciting prizes await winners of the Ghould Club's Guest Costume Contest. The 1st place winner will receive a VIP card, a bottle of Parigot Champagne and dinner for two at the Gold Club—a $1,200 value. The second and third place prize winners will receive $100 and $50 bar tabs, respectively.
Since opening seven years ago, the Gold Club has established its reputation as a world-class gentlemen's club and restaurant that is popular with locals and business travelers looking to relax and enjoy San Francisco's finest adult entertainment.
The exclusive San Francisco nightclub, recently voted Best of San Francisco Strip Clubs 2011 by SF Weekly readers, has earned its stellar reputation by providing a welcoming atmosphere and attentive service in a richly appointed and comfortable setting. The entertainers at the Gold Club are selected for their beauty and talent, and are known for being friendly but not overly pushy.
For more information about the Ghould Club's Halloween activities or to make reservations, call the club at (415) 529-4198 , visit GoldClubSF.com, or come by the club, located at 650 Howard Street in downtown San Francisco—across the street from Thirsty Bear.
Gold Club's team encourages adults to like them on Facebook at facebook.com/goldclubsf, follow them on Twitter at @GoldClubSF, check out their video channel on YouTube at youtube.com/user/goldclubsanfrancisco, and read their reviews by Yelp reviewers at yelp.com/biz/gold-club-san-francisco.
About the Gold Club
The Gold Club is a world-class gentlemen's club conveniently located in the heart of downtown San Francisco. With over 200 of the most erotic and exotic entertainers, a fine dining restaurant, five fully stocked bars and VIP skybox service, the Gold Club is San Francisco's premier erotic entertainment venue.
The Gold Club recognizes the value of customer satisfaction and consistently succeeds in supplying a highly entertaining and sensual experience to all guests. Outstanding special features include concierge services, champagne rooms, bottle service tables/booths, indoor cigar/smoking room, free secure WiFi access, limo services, and valet parking. The Gold Club is a popular spot for San Francisco bachelor parties, business meetings, or just a fun time out with friends in a comfortable, upscale environment.
###