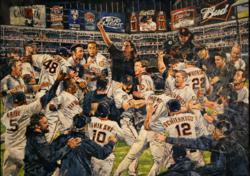 San Francisco, CA (Vocus/PRWEB) April 13, 2011
Much like the rings handed out on the field and the parade through town, one of baseball's treasured traditions of a World Series win is the team's celebration painting by Opie Otterstad. Fans will have the chance to join in the celebration when the official Major League Baseball-sanctioned 2010 painting of the San Francisco Giants' win is revealed on April 22nd.
If there is one exceptional painter of modern baseball history, it's Opie Otterstad. As an official artist of Major League Baseball (MLB), he has created a painting of the World Series-winning team every year for the past decade. His paintings have become a major part of baseball history, and are always in high demand with baseball insiders and players themselves.
This year's painting is a 40x60 canvas that captures the Giants' winning moment. The legendary team is all there, with fan favorites in the middle: Brian "Fear the Beard" Wilson, Rookie of the Year Buster Posey, and starting pitcher/Series clincher Tim Lincecum, who is joyously giving the "we're number one" gesture. Otterstad perfectly captures the energy of the moment the Giants ended their 56-year championship drought and gave San Francisco its first Series championship.
Giants fans will have the chance to view this great work of art in person when the 2010 painting of the San Francisco Giants' celebration is unveiled on April 22nd at LC Gallery, located in San Francisco's Westfield Centre. Opie Otterstad will be in town to do a meet-and-greet with fans at LC Gallery in the Westfield Centre on April 29th and at Lipary Collectibles in Martinez on April 30th.
Otterstad's World Series paintings are traditionally made into a limited edition of prints. Only 210 prints will be made this year (to represent the winning year 2010). Many typically go to the players, but unlike the other traditions such as the ring, this is one that true fans can take part in. About half the edition is already pre-sold, and the value is sure to rise. To reserve an official print, call Steven Lipary at (415) 912-1005.
As a long-time collector and trusted dealer of authentic sports memorabilia, LC Galleries owner Steven Lipary was chosen to be the exclusive vendor for the World Series painting. LC Gallery will be only gallery in the world to show the painting and offer the limited edition prints to the fans. The gallery also has a number of other Giants memorabilia items on display, including autographed jerseys and bats.
To order an MLB-sanctioned Giants World Series celebration painting by Opie Otterstad, or for information about any products or services from LC Galleries, call them at (415) 912-1005, view them on the web at lcgalleries.com, visit the LC Gallery store located in the Westfield Centre at 865 Market Street at Fifth Street # 430 in San Francisco, or visit the Lipary Collectibles Gallery located at 625 Main St. in Martinez.
About LC Galleries
LC Galleries is a dealer of limited edition artworks as well as celebrity, entertainment, and sports collectibles. They have two locations: the LC Gallery store in the Westfield San Francisco Centre, and Lipary Collectibles in Martinez. LC Galleries features many signed and rare items, and offers a 100% guarantee of authenticity. LC Gallery specializes in signed Giants memorabilia and fine sports artwork.
Owner and Northern California native Steven Lipary has spent a lifetime collecting, selling and evaluating fine art and collectibles. Since the opening of Lipary Collectibles in 1980, Steven has expanded his business over the years, now doing businesses out of multiple locations and around the world. Steven has garnered the respect of collectors and dealers alike, having received numerous accolades in the field of authentic autographed sports memorabilia and collectibles.
###