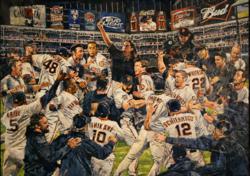 I'm so excited; I'm like a little kid. I think this is the most exciting thing that I've ever been a part of.
San Francisco, CA (Vocus/PRWEB) April 14, 2011
Every year for the past decade, Opie Otterstad, an official artist of Major League Baseball (MLB), has created a painting of the World Series-winning team. The 2010 painting of the San Francisco Giants' celebration will be unveiled on April 22nd at LC Gallery, a San Francisco sports memorabilia distributor located in San Francisco's Westfield Centre.
Opie Otterstad will be in town to do a meet-and-greet with fans at LC Gallery in the Westfield Centre on April 29th and at Lipary Collectibles in Martinez on April 30th. LC Galleries has exclusive rights to the original and a very limited edition of prints, which are selling fast. To reserve a print of the painting and guarantee a spot at the meet-and-greet, call owner Steven Lipary at (415) 912-1005.
The original painting, which will go on display at LC Gallery on April 22nd, is a 40x60 canvas that captures the Giants' winning celebration. The legendary team is all there, with fan favorites in the middle: Brian "Fear the Beard" Wilson, Rookie of the Year Buster Posey, and starting pitcher/Series clincher Tim Lincecum, who is joyously giving the "we're number one" gesture. Otterstad perfectly captures the energy of the moment the Giants ended their 56-year championship drought and gave San Francisco its first Series championship.
"I'm so excited; I'm like a little kid. I think this is the most exciting thing that I've ever been a part of," said die-hard Giants fan Steven Lipary, owner of LC Galleries, the go-to place for San Francisco Giants memorabilia. Other Giants fans are excited, too: Steven notes that about half the edition is already pre-sold, and he expects that the rest may sell out before the prints are even released.
Only 210 officially-sanctioned limited edition prints will be made, at three different levels, all of which will be numbered and authenticated. LC Galleries is the exclusive distributor. They will be available for pickup or shipping on April 22nd.
175 "Regular Edition" numbered prints will be made. These 28x40 prints are hand-embellished true giclée on canvas. "Regular Edition" prints will sell for $1,750. 25 "World Series Edition" proofs will be created, representing the 25 players on the active roster during the Series. They are also 28x40 true giclée, and will sell for $1,950. 10 "Exhibition Edition" prints, measuring 40x60, will be available for $5,500. The original will also be for sale; call Steven at (415) 912-1005 for pricing information.
Because of the desirability and the very limited number of prints, the law of supply and demand will prevail and the price of Otterstad's World Series paintings will increase over time. "I expect this piece will double in value very quickly," says Steven.
To order an MLB-sanctioned Giants World Series celebration painting by Opie Otterstad, for information about the upcoming meet-and-greet sessions with the artist, or for any other products or services from LC Galleries, call them at (415) 912-1005, view them on the web at http://www.lcgalleries.com, visit the LC Gallery store located in the Westfield Centre at 865 Market Street at Fifth Street # 430 in San Francisco, or visit the Lipary Collectibles Gallery located at 625 Main Street in Martinez.
About LC Galleries
LC Galleries is a dealer of limited edition artworks as well as celebrity, entertainment, and sports collectibles. They have two locations: the LC Gallery store in the Westfield San Francisco Centre, and Lipary Collectibles in Martinez. LC Galleries features many signed and rare items, and offers a 100% guarantee of authenticity. LC Gallery brings signed Giants memorabilia and fine artwork by artists like Stephen Holland to San Francisco.
###