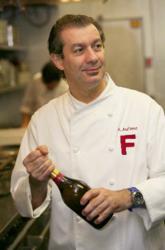 Angelo's nuevo Italian dishes are the perfect integration of high-quality, traditional and contemporary Italian cooking.
San Francisco, CA (PRWEB) November 01, 2011
Celebrated San Francisco Italian restaurant FARINA Focaccia and Cucina Italiana is hosting a cocktail reception and dinner party for invited members of the media to welcome FARINA's new Executive Chef Angelo Auriana. Drinks on the architecturally rich rooftop terrace garden will precede a gourmet feast in the equally magnificent main dining room below on Friday, November 18 starting at 5:30 pm.
Executive Chef Angelo Auriana, who joined FARINA in June and officially took the helm on October 2, is the main attraction during the evening's festivities. Auriana has developed his own style of selecting the perfect culinary components to create dishes that take guests on a gastronomic adventure. This approach, which he calls "cuisine of ingredients," has gained him prominence in the global culinary scene, which began during his 18-year tenure as the executive chef of the critically acclaimed Italian restaurant Valentino in Santa Monica.
"Angelo's nuevo Italian dishes are the perfect integration of high-quality, traditional and contemporary Italian cooking," said Luca Minna, Farina co-founder. "FARINA is fast becoming the premier Italian casual chic destination restaurant in California, and the place to go for high-quality and high-energy dining."
Precious few San Francisco Bay Area restaurants offer rooftop dining, and certainly none compare to FARINA's newly unveiled rooftop terrace garden. As with everything at FARINA, every detail has been meticulously thought out in this delightful open-air space. It is at once an inimitable and functional work of art and an outdoor extension of the playful elegance of the dining room below.
Architectural team Brett Terpulak designed the steel and wood outdoor dining area, which features wind and privacy panels in sky-blue glass panes, solid wood bench seats, and oxidized steel frames unlike anything ever seen in San Francisco. Resplendent with succulents, grasses and native flowers and shrubbery, the xeriscape rooftop gardens were designed by landscape architect and FARINA co-founder Monica Viarengo.
The rooftop space is currently available as a charming San Francisco party venue for hosting small intimate weddings and private events. Plans are underway to open the terrace on select nights and through special arrangements with the host.
For queries about this special San Francisco fine dining experience, call FARINA at (415) 240-4824.
About Executive Chef Angelo Auriana
Angelo Auriana was born in Bergamo, Italy, where at the age of 17 he graduated with honors from the prestigious San Pellegrino Hotel School. He began his formal training in his hometown, working with Pierangelo Cornaro—one of the most influential maestros of Auriana's career.
Auriana toured the varied cultural and wine regions of Italy, where he sought out highly regarded chefs who taught him the traditions and authenticity of their specific cuisines, before making his way to California in 1985. There he helped open Piero Selvaggio's contemporary Italian restaurant, Primi, and became executive chef of "Valentino Ristorante."
Coining the phrase "cuisine of ingredients," Auriana developed his own style, which reflects an intense passion for selecting the best possible ingredients and using them to construct dishes that emphasize and enhance their individual flavors. San Francisco food critic Patricia Unterman once wrote of Auriana: "Beyond his dazzling technical skill, Auriana understands proportion and contrast, the aesthetic of the meal as a whole."
At Valentino, Auriana developed his renowned proficiency for pairing his innovative dishes with wines from all over the world to take guests on a culinary adventure. 7x7 food blogger Jordan McKay once wrote of the chef's talents: "Auriana's wine knowledge is vast…and his palate is superb."
As executive chef at FARINA, Auriana is already building upon the restaurant's reputation for meticulously prepared, authentic cuisine. In his first month in this position, he brought his seasoned attention to detail and presentation to the FARINA table by developing his first Wine Celebration Dinner. This event, held on October 13, featured rare Italian wines brought over from the heir to the Jermann vineyard and winery.
About FARINA Focaccia and Cucina Italiana
FARINA Focaccia and Cucina Italiana is a San Francisco Italian restaurant that specializes in traditional Northern Italian, Ligurian cuisine. Grounded in tradition, FARINA is the antithesis of faddish here-today-gone-tomorrow hip food. From the chic-yet-functional design of the San Francisco Mission District restaurant to the innovative courses designed by celebrated Chef Angelo Auriana to the infinite well of ideas that spring from its founders, FARINA is redefining Italian dining in San Francisco.
###