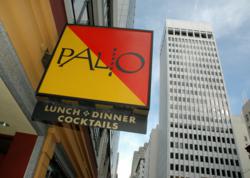 Italian white truffles are one of the world's top delicacies and only available for a limited window in the fall.
San Francisco, CA (PRWEB) November 01, 2011
No one serves up Italian truffles like San Francisco dining favorite Palio d'Asti at its annual "Noble Country" dinners. Since 1990 savvy diners have flocked to this downtown financial district destination to savor and compare Italian white truffles—the best of which are found by small dogs in the Piemonte region of Italy and can cost $2,000 a pound—with the black truffles of Tuscany and Umbria.
This year's specialty truffle dinners will be held at the downtown San Francisco Italian restaurant from Thursday to Saturday, November 10-12 with 5 courses offered at a prix fixe price of $85 per person. Wine pairings chosen by co-owner and general manager Martino DiGrande from the restaurant's Wine Spectator award winning list will be available at $60. While the season lasts, these aromatic delicacies are seen on the menu as a part of Palio's daily specials at lunch and dinner; as well as being available for addition to any dish upon request.
"Italian white truffles are one of the world's top delicacies and only available for a limited window in the fall. Based on supply, we expect to serve them from mid November until the first week in December," explains Palio's chef-owner Dan Scherotter. "They enhance any dish and especially complement subtle, rich, white foods such as risotto, veal, mushroom dishes, and pastas such as Tajerin, a traditional egg yolk-only tagliatelle with nothing but butter, Parmigiano Reggiano and shaved white truffles.
Beginning with a 4 item Antipasti that includes Truffled Deviled Eggs and Spiced Sonoma Foie Gras the evening will progress to the Primo Piatto, a Risotto with Melted Fontina Val d'Aosta Cheese and Shaved Piemontese White Truffles. Le Gambe- Slow Roasted Legs of Sonoma Rabbit and Muscovy Duck with Tuscan Black Truffles and Porcini Mushrooms- are complemented by Baby Carrots, Roasted Garlic. In the true European manner of white tablecloth dining venues a Trio of Cheeses (with a suggested 2006 Barolo) precede a "truffled dessert" of multi flavored Tartufi Amedei; single origin organic chocolate truffles refined in Tuscany; a Palio San Francisco exclusive.
Authenticity is the byword at Palio, making it a Michelin recommended destination for "comfortable dining." Scherotter, who personally oversees the kitchen daily, studied and worked in Bologna for 2 years and regularly visits Italy to research the regional and historic recipes featured. He uses locally grown organic produce from family farms as well as free range, sustainable agriculture and local artisan food products.
About Palio d'Asti Italian Restaurant San Francisco
Celebrating 20 years of authentic, seasonal Italian cuisine with a Slow Foods approach, Palio d'Asti features classic and contemporary Italian regional fare combined with exceptional, white table cloth service at its ala carte lunch and prix fixe dinner. Open Monday through Friday from 11:30 am to 2:30 pm for lunch and Monday through Saturday from 5:30 to 9:00 pm for dinner Palio d'Asti also hosts the best San Francisco Happy Hour featuring a wide selection of artisan pizza for only $1 with the purchase of two adult beverages from 4 to 7 pm Monday through Friday. Their weekday bar menu is offered from 2:30 to 5:30 pm.
With several rooms available for group dining for 20-200, as well as a private smoking patio and a full time banquet department that can arrange everything from live music and dancing to specialty wedding cakes, Palio d'Asti is also a top San Francisco party venue available for private dining 7 days a week for breakfast, lunch, dinner and mid day corporate meetings and presentations.
Palio d'Asti is located downtown, close to Union Square and convenient to Moscone Center, at 640 Sacramento Street between Kearny and Montgomery in San Francisco. Valided parking is available during lunch and dinner at the Portsmouth Square Garage only 1½ blocks away.
For reservations or more information call (415) 658-9295. To make reservations online visit http://www.paliodasti.com.
###