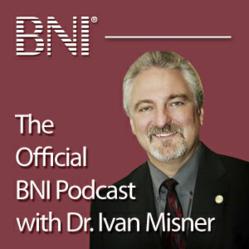 We have recorded over two hundred BNI podcasts at Live Oak Studio. They have helped me become a better business woman and made podcasting a larger part of what we do.
San Francisco, CA (PRWEB) November 22, 2011
Discipline and focus—not shortcuts—make people successful. Dr. Ivan Misner, founder of BNI, drives this point home in his latest podcast, "You don't become exceptional by looking for exceptions." Recorded with the assistance of Priscilla Rice, owner of Live Oak Studio in Berkeley, this podcast, and previous podcasts, can be heard on BNI's website, located at http://www.bnipodcast.com.
"I am really tired of dealing with people who want great results, but they don't want to put in great effort," said Misner, admittedly not holding back. "I honestly think that if people spent half as much time focusing on the fundamentals of success in the areas they are interested in instead of on shortcuts, they would get twice the results they are currently getting."
Exceptional performance, according to Misner, is not achieved by looking for exceptions. In order to get great results, people need to exert great effort. Misner points out that "you can't win the Tour de France without riding a bike or the Nobel Peace Prize without changing the world."
Just as musicians and athletes need to practice—so do businesspeople, says Misner. Success comes with discipline and keen focus on the fundamentals: there are no shortcuts.
"I find over and over, way too many people solicit ideas or advice from someone successful in the subject area, then turn around and argue that it won't work," says Misner.
"For example: Recently, I read a post about Dr. Tony Alessandra, an advocate of the Platinum Rule: treat people the way they want to be treated, not the way you want to be treated because their needs, desires and wants may be different from yours.
"Someone posted a comment that this rule couldn't be further from the truth because people don't always know what's best for them. When I did some digging on this person, I found he blasted the experts in all of his posts. I also discovered this fellow bounced from job to job in different industries. I don't think it was any coincidence that his lack of focus and opposition towards the experts kept him from achieving more."
BNI's philosophy is built upon the idea that "Givers Gain," and by giving business to others, you will get business in return. This is predicated on the age-old idea of "what goes around comes around." Misner posts new podcasts about success in business every week on his website: http://www.bnipodcast.com.
"I've been a BNI member for over 7 years, and I love working on these podcasts with Dr. Misner,"said Rice. "We have recorded over two hundred of them by now. It has helped me become a better business woman and made podcasting a larger part of what we do here at my San Francisco recording studio Live Oak Studio."
About Live Oak Studio
Since 1984, Live Oak Studio, a greater San Francisco music recording studio, has recorded music legends, including Destiny's Child, Boyz II Men, Will Smith, Alicia Keys, Tony! Toni! Tone! and E-40. The Berkeley studio utilizes a Digidesign Pro Tools HD-based system to record breakthrough and award-winning albums for artists all of genres. The East Bay recording studio specializes in audio, voiceover, live band recording, audiobook and narration recording services. The studio can also help artists with mixing, editing and creating audiobooks, podcasts and meditation CDs.
For more information about recording at Live Oak Studio, please call (510) 423-0771 or visit them on the web at liveoakstudio.com.
###