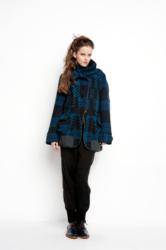 Many items in our functional fashion line feature elements that can be buttoned, twisted, draped, zipped, tied or reversed to quickly achieve many desired looks.
(PRWEB) January 08, 2012
MultiFUNKtionality and durability are two key design concepts that make convertible clothing from Skunkfunk an excellent choice this year. Each piece in the eco-conscious clothier's line of convertible fashions for women and men is comfortable, stylishly casual and long-wearing. New flexibility has been sewn into the mix, so that garments can be converted and adapted for multiple contexts, temperatures and looks. Such innovative features make Skunkfunk among the smartest clothes available today.
"Many items in our functional fashion line feature elements that can be buttoned, twisted, draped, zipped, tied or reversed to quickly achieve many desired looks," said Kyle Retzik, owner of Skunkfunk North America. "And because Skunkfunk will often only offer a handful of each garment in each city, the chances of running into an embarrassing "clothing twins" situation at a party are pretty darn slim."
The Skunkfunk line is a reflection of the Basque countryside yet transitions easily into the international urban landscape. Each piece is designed with environmental awareness: textiles are carefully chosen with a high consideration of their impact on the environment. Fabrics often used include recycled polyester, organic cotton and Lyocell
RECYCLED POLYESTER
Polyester comes from crude oil, a natural scarce resource with a low renewability ratio. Recycled polyester is processed in a less energy intensive way than creating virgin fibers, and it's a perfect option to give a second life to post-industrial remains or post-consumer plastic waste.
ORGANIC COTTON
Organic Cotton is a natural fiber cultivated without the use of synthetic chemicals, such as pesticides or fertilizers, and is not genetically modified.
LYOCELL
Lyocell is a light and silky textile made from regenerated cellulosic fiber that comes from eucalyptus wood pulp. The biodegradable fiber is extracted under a sustainable closed-loop process that saves energy.
In addition to shopping in person at their Manhattan and San Francisco, clothing stores, guests can shop for Skunkfunk's eco-friendly fashion online at http://www.ShopSkunkFunk.com comfortably from home. Between now and the end of January 2012, Skunkfunk is offering a storewide discount simply by liking them on Facebook (http://www.facebook.com/SkunkfunkUSA).
For more information about Skunkfunk's convertible clothing or any of Skunkfunk's products, call (415) 692-7678, go to ShopSkunkFunk.com, or visit one of their three stores located at 1475 Haight Street (Haight-Ashbury) and 302 Valencia Street (The Mission) in San Francisco or 181 Orchard Street (SoHo) in New York City.
About Skunkfunk
Skunkfunk is a project born in the autonomous Basque Country in Northern Spain. The brand reflects its local identity, the all-green nature of its headquarters, and a journey through international urban landscapes.
In addition to Skunkfunk North America's San Francisco and Manhattan clothing stores, Skunkfunk is also available in many European cities, online and in multi-brand stores throughout the United States.
###