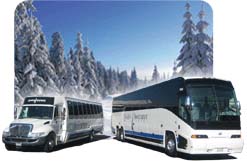 San Jose, CA (PRWEB) November 10, 2011
The premier San Jose charter bus company, Quality Assurance Travel, will unveil their new website at the Snow Bomb Ski and Snowboard Festival being held at The San Jose Convention Center on November 12 and 13th.
The new website being launched by Quality Assurance Travel, skibusride.com, offers users a simple and convenient online interface for booking round trip shuttles to ski resorts all over California.
This functionality of the new website is another reason why ski travelers choose the San Jose ski bus company for Bay Area / San Jose ski trips. Quality Assurance Travel's skilled drivers are always prepared for all types of weather and making the trip a fun experience for everyone.
Information on the special features of their extensive fleet of passenger minibuses and luxury coaches—such as lighting, seating comfort and music and movie selections on an enhanced speaker system—can all be found on the site.
Quality Assurance Travel offers information about all the ski resort destinations in the Tahoe area including Boreal, Alpine Meadows, Northstar, Sugar Bowl, Sierra, and Kirkwood.
Families who don't ski, but enjoy playing together in the snow can grab a ride and enjoy all of the fun activities at the snow parks, such as sledding, tubing, riding ponies and petting live reindeer.
Quality Assurance Travel offers ski trip packages for all types of Bay Area groups including schools, churches, corporations, and teams.
The 2011 Snow Bomb Ski and Snowboard Festival is hosted by Any Mountain, and will offer top brands of skis and snowboards for sale, including Burton, K2, Atomic, Rossignol, at up to 80% off. In addition to the sale, the festival will host wine and beer tasting from over 100 of the best local wineries and breweries.
The festival organizers are also giving away free lift tickets with every admission, and door prizes that include stays at world class resorts.
For more information about Quality Assurance Travel's new website, come to the unveiling at the upcoming Snow Bomb Ski and Snowboard Festival on November 12th and 13th at the San Jose Convention Center.
For more information about Quality Assurance Travel's services, go to at http://www.skibusride.com,
call 1-888-333-6554, or visit them at 1585 Laurelwood Road in Santa Clara.
About Quality Assurance Travel
Quality Assurance Travel, a family-owned and operated businesses in Silicon Valley, is known for their reliability, unwavering commitment to safety and fun drivers who know the Bay Area and Tahoe. The San Jose charter bus operator offers a superior fleet of charter buses available with many options. They also work with clients to accommodate special needs.
Quality Assurance Travel provides Bay Area skiers a "soup-to-nuts" ski bus charter and tour experience so they can sit back and enjoy the ride—and the powder.
###