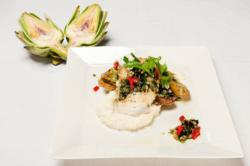 Plouf supports businesses that operate by sustainable practices—from farms to ranches to fisheries.
San Francisco, CA (Vocus/PRWEB) April 22, 2011
In honor of Good Friday's traditional main course, the fish, Plouf Seafood Bistro is reaffirming its commitment to buying and serving only healthy and sustainable seafood. By following the recommendations made by the Monterey Bay Aquarium's WATCH® program, the downtown San Francisco seafood restaurant only serves seafood items that promote ocean safety and health.
"Plouf supports businesses that operate by sustainable practices—from farms to ranches to fisheries," said Plouf executive chef Mark Papedis. "We don't want Plouf's continued success to come at the expense of the beautiful areas we all enjoy."
Shellfish and salmon served at Plouf are farmed in a way that doesn't impact the environment. All other fish are caught by line, not by drag-nets or long lines.
The Monterey Seafood WATCH® is a scientifically based, peer reviewed program designed to help ensure a bounty of seafood for this and future generations, support environmentally responsible fishing and fish farming, increase the demand for ocean friendly seafood, and lower demand for species that are in peril so that they may recover.
For more information about Plouf, please call (415) 986-6491, visit their website at http://www.ploufsf.com, or come to the restaurant located at 40 Belden Place in San Francisco.
About Plouf Seafood Bistro
Plouf Seafood Bistro, located in the Financial District, is one of the best seafood restaurants in San Francisco. Plouf specializes in mussels, oysters, unique appetizers, salads, seafood dishes, and meats. "Plouf" is the sound a stone makes when it drops into a French stream. Executive chef Mark Papedis studied cooking in France, served as chef at the Ahwahnee Dining Room in the world-famous Ahwahnee Hotel in Yosemite National Park for three years, and served as chef at Wente Vineyards in Livermore for the last five years.
About Belden Place
Sixteen years ago while people were avoiding looking down, and certainly not walking though, the garbage alley named Belden place—Erik Klein and Oliver Azancot saw an opportunity. They imagined the passageway filled with tables and chairs, great food and wine, and sparkling lights—the kind of setting friends would gather for a magical evening of epicurean delight.
It was here they opened Café Bastille in 1990, and over the years the addition of other great bistros like Plouf and B44 have transformed this former garbage alley into a piece of Old Europe—a world-class dining experience, a San Francisco landmark where residents and visitors from all over the world come to raise their forks, glasses, and spirits and celebrate the good things in life at San Francisco's best restaurants.
# # #