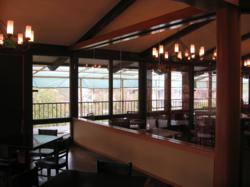 Unforeseen issues always come up when working on an existing building. The bottom line is, when we make a promise to our clients, we make sure we keep it.
Silicon Valley, CA (Vocus/PRWEB) April 06, 2011
Hallmark Construction, one of the top general contracting firms in Northern California, announced Friday it has finished the renovation of the new Restaurant 3000. Located at 3000 Sand Hill Road, the restaurant occupies the former home of The Sundeck, another dining establishment which closed its doors mid-March of this year. Because of its prime location, the restaurant serves some of the west coast's premier venture capital firms.
"Restaurant 3000 is an exceptional restaurant," said Kenji Ohkawa, Hallmark's manager on the project. "The millwork and high-end finishes required precise work from our own craftsman and subcontractors," he continued. Improvements were made throughout the restaurant, including new flooring, decorative tile, electrical installation, attractive lighting fixtures, new kitchen equipment and a wooden deck.
The Hallmark team encountered an unexpected obstacle when working on the restaurant's exterior wooden deck. "When we inspected the deck we found dry rot on the main beams," Ohkawa explained. "This added more work to an already tight deadline." Initially the plan was to only waterproof the deck, a rather speedy operation.
The damage, however, required the main structural beams supporting the patio to be completely replaced. With little time to waste, Hallmark quickly responded with additional personnel and weekend work to repair the deck and stay on schedule.
Despite the challenges Hallmark met Restaurant 3000's schedule and the restaurant is already open. "Unforeseen issues always come up when working on an existing building," explained Ohkawa. "The bottom line is that when we make a promise to our clients, we make sure we keep it."
For more information about Sally Starr or any of Hallmark's construction and engineering services, contact Kristina Corral, (408) 489-1610 or visit Hallmark's website at: http://www.lshallmark.com.
About Hallmark Construction
Hallmark Construction is a leading Northern California general contractor with a well-earned reputation for quality, integrity, and client loyalty. The company specializes in new building construction, such as Palo Alto tenant improvement, Silicon Valley technology sector construction, Monterey green building, and Pleasanton office construction projects.
Hallmark Construction maintains projects up and down Northern California's coast, including Monterey and the San Francisco Bay Area, while operating from its Santa Clara headquarters and its satellite office in Pacific Grove, just outside of Monterey.
###