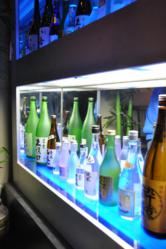 Blue Fin Sushi was awarded Best Happy Hour by SFWeekly in 2010.
San Francisco, CA (Vocus/PRWEB) April 13, 2011
Blue Fin Sushi's happy hour is a delicious and money-saving way to enjoy an early dinner or post-work drink. The San Francisco Japanese restaurant is offering selected draft beers at $3 each, and well drinks for $4 each. The appetizers, priced at $3-$4 each, include tender yakitori (skewers of grilled chicken), crispy haru-maki (spring rolls), smoked salmon crackers and fried crab rangoon.
Blue Fin Sushi also features house special cocktails such as lychee martinis, yuzu mimosas and green tea mojitos, all priced at a discounted rate of $8 each.
"Came here during happy hour and their bar menu is $3-$4, which is great," said Blue Fin Sushi customer Eric A. "We ended up ordering wings, calamari, garlic fries, Coronas—all for 3-4 dollars each. I tried their Romeo and Juliet Roll, and it was really good!"
Blue Fin Sushi is an award-winning San Francisco Japanese restaurant whose expertise is modern fusion rolls. They serve inventive Japanese cuisine ranging from sushi to signature dishes like wasabi seafood pizza, seafood ceviche and unagi fried rice. They provide free delivery, private room dining and a lounge area. They were nominated for The Best Sushi in San Francisco County by KRON4 Best of the Bay and were awarded Best Happy Hour by SFWeekly in 2010.
For more information about the happy hour or any of Blue Fin Sushi's services or menu items, call them at (415) 666-2819, visit them on the web at http://www.bluefinsushi-sf.com or just come by their Richmond District Japanese restaurant and lounge located at 1814 Clement Street in the Richmond District in San Francisco.
About Blue Fin Sushi
Blue Fin Sushi is a San Francisco sushi restaurant that specializes in modern fusion rolls and innovative Japanese cuisine.
###