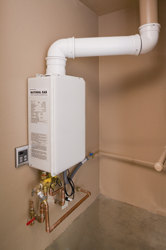 A tankless water heater heats as much water as you need, whether you are drawing a bath, washing multiple loads of laundry, running the dishwasher, or all of these things at once.
Danville, CA (Vocus/PRWEB) April 20, 2011
All American Plumbing, the East Bay tankless water heater expert, installs a lot of tankless water heaters. Tankless heaters provide an endless source of hot water on demand, take up less space, use less energy, and last longer than tank-style water heaters. So when the old tank-style water heater fails, All American Plumbing says there are five important advantages to converting to a tankless water heater homeowners should strongly consider.
"A tankless water heater heats as much water as you need, whether you are drawing a bath, washing multiple loads of laundry, running the dishwasher, or all of these things at once," said Leanne Heinrich of All American Plumbing. "You will never run out of hot water when you own a tankless water heater."
According to Heinrich the ideal time to convert to a tankless water heater is when a conventional heater fails and must be replaced, but converting before a failure will help ensure there is no interruption in hot water an inconvenient time. Homeowners can also start realizing energy savings as soon at they switch.
The advantages of tankless water heaters are numerous. First of all they take up much less space. A traditional water heater takes up approximately 16 square feet of valuable space, compared to a tankless model—which is about the size of a small carry on suitcase. A tankless water heater can also be installed almost anywhere inside or outside the home.
Second, tankless water heaters can pay for themselves in as little as three years based on energy savings alone. Tankless systems heat water when it is needed. There is no energy wasted on pilot lights or storage loss. When water isn't needed, the system shuts off.
Third, tankless water heaters are more durable and will last longer than traditional water heaters. Units are generally well designed and constructed and require very little maintenance over their lifetime. If something does break down, any single part of the heater can be replaced or fixed.
Finally, scale and rust can build up in the storage tank of a tank-style water heater—but since water is heated as it passes through a pipe in a tankless model, the water is fresher and cleaner. No tank also means no leaky tank.
"We knew we wanted a tankless water system for our home, but we had no clue which one, how much or even if it would suit our home and our needs," said All American Plumbing customer Damon Casatico. "So I called Todd and in five minutes he understood our needs, recommended the proper unit, and installed it within two days of the call. That was five years ago. The system still works great and I am happy to recommend Todd to all of my friends who need a talented and honest plumber who will actually return calls and show up when he says he will."
For more information about tankless water heaters or any of All American Plumbing's products or services, call them at (925) 208-4773 or visit them on the web at http://www.plumbingserviceseastbayca.com.
About All American Plumbing
All American Plumbing is a Danville plumber that specializes in drain cleaning, bathroom remodeling, and other plumbing services in the East Bay Area. All American Plumbing serves the communities of Alamo, Blackhawk, Concord, Diablo, Dublin, Lafayette, Moraga, Orinda, Pleasant Hill, Pleasanton, San Francisco, San Ramon and Walnut Creek.
###