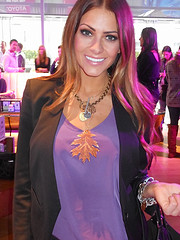 I love the London Manori line: their jewelry is simple, modern and stunning.
Los Angeles, CA (PRWEB) November 30, 2011
UNIQUE LA holiday shopping has become almost as much of a tradition in Los Angeles as the holidays themselves. It is the place to discover great local designers and artists, such as London Manori. The Los Angeles jeweler is set to unveil new pieces from their 2012 collection at the event, held in Downtown LA on December 3 and 4.
UNIQUE LA was created so that shoppers could discover great local designers and artists in a single spot. With over 325 amazing vendors showcasing their work—including London Manori and their unique and enduring line of men's and women's jewelry—Los Angeles holiday shoppers are almost certain to find something for everyone on their list.
"I love the London Manori line: their jewelry is simple, modern and stunning," said Sonja Rasula, president of UNIQUE LA. "Their rings add the perfect amount of bling to any outfit."
Launched in December of 2008, the independent design show UNIQUE LA is the result of community leader and designer Sonja Rasula's efforts to level the retail playing field and make locally made items accessible to large groups of shoppers.
Hailed the fresh face of a growing "Made in the USA" movement, Sonja's mission is simple: to bring modern American design to the masses. "My goals are to help designers and small businesses grow and become sustainable, support the local economy, and teach shoppers the value of conscious consumerism," said Rasula.
Aneela Manori, the Los Angeles jewelry designer and owner of London Manori, has participated in the UNIQUE concept since the first LA show in 2008. The event has brought keen attention to London Manori's sterling silver collection and helped to make them a recognized brand in Los Angeles.
"We invite everyone to attend the Unique LA Holiday Show; it's a lot of fun, and a great place to shop for Christmas," said Manori. "UNIQUE LA showcases hundreds of independent local designers under one roof. The shopping experience is fun for individuals and families, and the event supports the community.
"UNIQUE LA guests will find amazing people, music, food, alcohol and really great affordable art and jewelry. The youthful, modern, and engaging atmosphere fits the message behind London Manori's pieces."
UNIQUE LA will be held December 3 and 4, 2011 between the hours of 11 am and 6 pm at the California Market Center, located at 110 East 9th Street in downtown Los Angeles. A tote bag, popchips, HonestTea and liquor are included as part of the $10 entry fee.
Los Angeles has been enamored of the jewelry designs of London Manori since November, 2008. The reaction has been enthusiastic; in fact, the innovative designs have become popular with many celebrities-including Kim Kardashian, Michelle Money, and performer Lupe Fiasco—who are often spotted and photographed wearing London Manori pieces.
The Los Angeles custom jewelry designer is known for their uniquely ornate designs with intricate details, including their fashionable stackable rings and gorgeous 18kt gold pave diamond beauties.
To contact or make purchases directly from London Manori, call (213)-261-8876, go to http://www.londonmanori.com, or visit one of the stores that carry their jewelry. For a list of retail locations that carry their jewelry, please visit londonmanori.com/stores.html.
About London Manori
London Manori is a Los Angeles custom jewelry designer and manufacturer. By combining unique designs and state-of-the-art techniques, they create an exceptional collection of fine jewelry with unmatched quality and precision. They design and sell a wide assortment of necklaces, rings, charms, bracelets, and jeweled leaves.
###