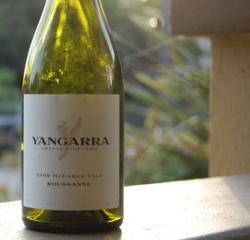 San Francisco, CA (PRWEB) January 18, 2012
As temperatures dip in the Bay Area, Ma'Velous, the chic San Francisco wine bar, is celebrating summer on the other side of the equator by featuring select reds and whites from Viña Errázuriz of Chile, Finca Decero / Remolinos Vineyard of Argentina, and Yangarra Estate Vineyard of Australia. Ma'Velous is located at 1408 Market Street between Fell and Van Ness in San Francisco.
"Ma'Velous is proud to introduce San Francisco to seven hand-selected wines from the Southern Hemisphere," said Phillip Ma, founder of Ma'Velous.
The premier San Francisco wine bar's special menu includes:
WHITE WINES
Sauvignon Blanc
Viña Errázuriz
Casablanca Valley, Chile 2010
Chardonnay "Wild Ferment"
Viña Errázuriz
Casablanca, Chile 2010
Roussane
Yangarra Estate Vineyard
McLaren Vale, Australia 2009
RED WINES
Malbec
Finca Decero / Remolinos Vineyard
Mendoza, Argentina 2009
Carmenere
Viña Errázuriz
Aconcagua Valley, Chile 2010
Cabernet Sauvignon
Viña Errázuriz
Aconcagua Valley, Chile 2010
Shiraz
Yangarra Estate Vineyard
McLaren Vale, Australia 2009
Don Maximiano Errázuriz founded Viña Errázuriz in 1870 in the Valle de Aconcagua, 65 miles north of Santiago. Recognizing that this valley, with its cool, rainy winters; hot, dry summers; and moist Pacific Ocean breezes; was ideal for growing grapes, Don Maximiano sent for the finest clones from France and, with tenacity and perseverance, transformed this barren land into a world-class vineyard.
Finca Decero was once a bare patch of soil in the Argentine foothills of the Andes, but is now our one-of-a-kind vineyard, where each vine is nurtured by hand. Having started "from scratch," as Decero means, Finca Decero has adopted a sustainable and sensitive approach, which allows the unique natural attributes of Remolinos Vineyard to shine through in every one of their single vineyard wines.
Yangarra is an aboriginal word that translates to "from the earth." Wine grapes are grown on the single-vineyard estate in the Blewitt Springs sub-region of McLaren Vale in South Australia. Its 250 acres of vines in 35 individual blocks are spread amongst 420 acres of creeks, native vegetation and nature corridors.
The key to Yangarra Estate Vineyards' unique flavors is a large, smooth dune of Ngankipari Sand, a precisely-delineated aeolian, or wind-blown geological formation that was laid down about a million years ago—which is very young in Australia's ancient geology.
In addition to serving great wines, Ma'Velous hand crafts coffee made with a choice of six different brewing methods. The exquisitely customized brewing equipment at Ma'Velous includes a custom-built, one-of-a-kind espresso machine, a Hario V60 coffee drip, a Chemex coffee maker, a French press, a Siphon coffee brewing machine, and a Kyoto cold slow drip coffee maker. The last two precision coffee-making apparatus were imported from Japan.
The fashionable San Francisco wine bar is located near the corner of Market and Fell Streets near the Civic Center. Its proximity and charm have made Ma'Velous popular with symphony and opera goers and, increasingly, technology companies that are trickling into the neighborhood.
For more information about Ma'Velous, call (415) 912-1039, go to MaVelous-SF.com, or visit the café in person at 1408 Market Street in San Francisco.
About Ma'Velous Wine and Coffee Bar
The vision of Ma'Velous is to share some of the best ingredients the earth has to offer, by bringing roasted coffees and boutique wines from around the world to San Francisco, and by utilizing their vast culinary resources in Northern California. The select seasonal menu concentrates on celebrating the small sustainable farms, roasteries and wineries.
The wine and coffee bar also offers San Francisco live music and great San Francisco happy hour specials.
###