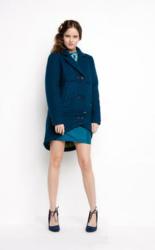 Our top three selling items are disappearing quick. They're the eco-friendly fashion equivalents of the Cabbage Patch doll or Tickle Me Elmos of Christmas past.
San Francisco, CA (PRWEB) December 16, 2011
Manhattan and San Francisco clothing store Skunkfunk (also online at http://www.shopskunkfunk.com) is having their best Christmas ever. Shoppers in the Big Apple and the City by the Bay may not be resorting to pepper spray to get top-selling items like they do at Walmart, but there is a definite eco-friendly fashion frenzy going on.
"It seems everyone is looking for garments that have minimal impact on the environment," said Kyle Retzik, owner of Skunkfunk North America. "Our top three selling items are disappearing quick. They're the eco-friendly fashion equivalents of the Cabbage Patch doll or Tickle Me Elmos of Christmas past."
Skunkfunk's top three sellers are their Izartza, an extremely versatile 3-in-1 wool-blend coat; the Agate, a tunic dress made from organic cotton and recycled polyester; and the Emilene, a sweatshirt made of 100% organic cotton on the outside and polyester fleece on the inside lining. A description of each item follows:
IZARTZA (or Three Part Harmony Coat)
This woven women's coat can be worn three ways, configurable by zipping/unzipping on/off the lower two horizontal sections, providing for three varying degrees of coverage and coziness. Available in cobalt, the coat is constructed from 40% acrylic, 30% polyester and 30% wool, so it is both versatile and durable. Because of its long life expectancy and classic style, the owner can wear it for more occasions and won't need to replace it for a very long time.
AGATE
This tunic dress has a teardrop-shaped keyhole at the neckline. The bird-on-branch graphic is subtle and runs through to both sides. The playful hemline of loose piping can accent the front or be flipped back for some bustle on the backside. It looks great on its own or with leggings. Available in licorice, the Agate is made from 64% organic cotton and 36% recycled polyester.
EMILENE
The most versatile and upscale women's sweatshirt this season, the Emilene is thick knit on the outside and cozy fleece-like lining on the inside with a cool collar that becomes a scarf when zipped off. Perfect for keeping oh-so-warm in the winter, this sweatshirt is available in black or navy and features a 100% organic cotton shell and 100% polyester fleece lining.
Skunkfunk's Holiday Gift Guide (http://skunkfunkusa.tumblr.com/) also contains some of their more popular items, according to Retzik.
"There is a phenomenal promotion code on the Gift Guide for items in the guide, so the shopper can save their money as they help save the environment," said Retzik. "We hope shoppers will check us out to see why Skunkfunk has emerged as America's favorite fashion-forward retailer of organic cotton, recycled polyester and Lyocell clothing."
The Spanish-born purveyor of fine clothing is renowned for their eco-friendly fabrics and ethical distribution practices that harmonize with the environment. Their textiles are carefully chosen based upon their low impact to the environment, and include recycled polyester, organic cotton, and Lyocell.
RECYCLED POLYESTER
Polyester comes from crude oil, a natural scarce resource with a low renewability ratio. Recycled polyester is processed in a less energy-intensive way than creating virgin fibers, and it's a perfect option to give a second life to post-industrial remains or post-consumer plastic waste.
ORGANIC COTTON
Organic cotton is a natural fiber cultivated without the use of synthetic chemicals, such as pesticides or fertilizers, and is not genetically modified.
LYOCELL
Lyocell is a light and silky textile made from regenerated cellulosic fiber that comes from eucalyptus wood pulp. The biodegradable fiber is extracted under a sustainable closed-loop process that saves energy.
For more information about holiday shopping at Skunkfunk, or any of Skunkfunk's products, call (415) 692-7678, go to http://www.shopskunkfunk.com, or visit one of their three stores located at 1475 Haight Street (Haight-Ashbury) and 302 Valencia Street (The Mission) in San Francisco or 181 Orchard Street (SoHo) in New York City.
About Skunkfunk
Skunkfunk is a Spanish-born New York and San Francisco clothing store that specializes in environmentally friendly women's, children's and men's clothing. Skunkfunk has stores in San Francisco, New York City, various European cities and online. Their clothing is also sold in multi-brand stores throughout the United States.
###