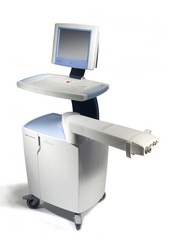 ThermoFab was an excellent resource for us. They were creative in their approach and very elegant in the design.
Shirley, MA (PRWEB) February 22, 2010
ThermoFab continues to make its mark in the medical industry by helping Avedro quickly deliver their innovative Vedera(TM) KXS System used for performing the Keraflex(R) procedure.
Within 12 months of securing financing, start-up Avedro moved rapidly from concept to reality by partnering with Continuum, a design consultancy firm, for the engineering, software development, and exterior industrial design. Continuum brought Avedro and ThermoFab together knowing that the company could respond to the tight time frame and unique enclosure requirements of the Vedera KXS System.
"Continuum recommended ThermoFab based on their past experience," said Evan Sherr, VP of Avedro Operations. "And after looking at other vendors, we realized ThermoFab was pretty unique. They are doing enclosures in a way no one else is doing them."
"We have developed a proprietary process that allows us to create details and closer tolerances that other thermoformers cannot achieve," stated Tom King, President of ThermoFab. "Knowing that this product was going to be in full view of patients, Continuum created a clean, technically sophisticated look. We then went through the CAD renderings and were able to make further refinements based on our expertise of manufacturing enclosures of this scale."
Avedro currently has the Vedera KXS System in clinical trials in Europe and hopes to receive CE Mark approval in the early part of this year.
"ThermoFab was an excellent resource for us," stated Sherr. "They were creative in their approach and very elegant in the design. We haven't come across anyone like them before."
About ThermoFab:
ThermoFab (http://www.thermofab.com) was founded in 1976 and is headquartered in Shirley, Mass. The company designs, develops, and delivers custom plastic enclosure prototypes and products. Using a technique called "thermoforming," injection-molded detail can be achieved with revolutionary speed and quality.
Vedera and Keraflex are trademarks of Avedro.
# # #