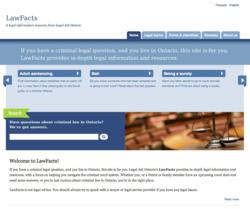 Ontario (PRWEB) February 06, 2012
Legal Aid Ontario (LAO) has launched a new bilingual legal website, LawFacts.ca, to help people better navigate Ontario's criminal justice system.
As the Internet is increasingly becoming one of the first places people go to for information, LawFacts was designed to help educate online users about the criminal legal processes. The website covers a range of legal topics such as first appearances, bail and diversion. It also includes a database of common forms found in criminal court, checklists for contacting Legal Aid Ontario and a detailed glossary of legal terms.
Written and created by frontline Legal Aid Ontario lawyers and staff, LawFacts takes readers through an array of legal topics and provides answers to common questions. Visitors can also quickly conduct a search for certain information, with results from LawFacts, Community Legal Education Ontario's Your Legal Rights online resource and Legal Aid Ontario's main website, all within one screen.
Since its December launch, the website has been viewed over 15,150 times. Visitors to the site are spending an average of almost four and a half minutes reading an average of 5.15 pages per visit. 82 per cent of these visits represent new visitors to the site.
While visitors are encouraged to speak with their lawyer or duty counsel before choosing their course of action, LawFacts offers Ontarians an excellent online resource for practical legal information, when they need it, from wherever they are. Accessible from any internet-enabled computer or mobile device, LawFacts is a significant step forward in bringing criminal law legal information to all Ontarians.
###