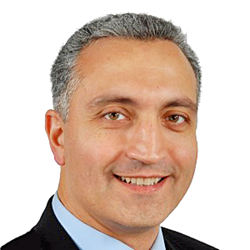 Millions of people suffer from pain. Whether the pain is mild, on and off, or debilitating, we are here to help.
NYC, NY (PRWEB) February 29, 2016
Dr. Steven S. Moalemi, MD specializes in physical medicine & rehabilitation. He has been relieving pain professionally for 18 years.
"Pain should not dictate your life," said Dr Moalemi. "Regain control. Millions of people suffer from pain. Whether the pain is mild, on and off, or debilitating, we are here to help. Our specialists are experts in offering pain relief through a wide variety of non-surgical treatments personalized to each individual - physical therapy, acupuncture, exercises and stretching, medication, injections, massages and more."
Dr. Steven S. Moalemi is a board certified physician with excellent training. He finished his undergraduate studies at New York University (New York, NY) with bachelors in chemistry in 3 ½ years. He then attended medical school at State University of New York Health Science Center at Brooklyn - formerly known as Downstate Medical Center (Brooklyn, NY). He did his internship year at Hospital of St. Raphael - an affiliate of Yale School of Medicine (New Haven, Connecticut). Dr. Moalemi then started residency at Thomas Jefferson University Hospital (Philadelphia, PA) in the specialty of Physical Medicine & Rehabilitation. He concluded his last two years of residency at Mt. Sinai School of Medicine-Mt. Sinai Medical Center (New York, NY). He is well known for his compassion for his patients as well as his knowledge. An expert in his field, he directs a team of talented and knowledgeable therapists, who he has personally selected for their professional ability and compassion.
Other specialties at Empire Physical Medicine & Pain Management include Pain Medicine, Sports Medicine, Sports Rehabilitation Medicine, Musculoskeletal Rehabilitation, Spine Physiatry, Acupuncture, Spinal Decompression Therapy and Electrodiagnostic Medicine.
ABOUT EMPIRE PHYSICAL MEDICINE & PAIN MANAGEMENT: Board certified since 1999, Steven s. Moalemi, MD, FAAPMR attained the highest credentials in the field of Physical Medicine and Rehabilitation; this warrants Dr. Moalemi as a leading specialist in the field, as he is continuously updated in the most current state-of-the-art education programs, treatment protocols and equipment. In addition to his work at Empire Physical Medicine, Dr. Steven Moalemi serves as a consultant to other physicians because of his working knowledge.
Steven S. Moalemi, MD, FAAPMR
Empire Physical Medicine & Pain Management
7 West 45th St, 9th Floor
(Between 5th and 6th Ave)
New York, NY 10036
212-867-1111
http://manhattanpainrelief.com
Other location:
Steven S. Moalemi, MD, FAAPMR
Downtown Spine, Sports & Orthopedic Rehabilitation P.C.
65 Broadway / 47 Trinity Place, Suite 603
(Between Wall Street & Exchange Place)
New York, NY 10006
212-422-1111