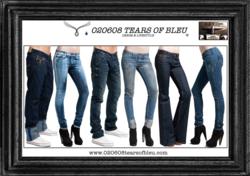 Denim is a lifestyle -'020608 Tears of Bleu' is a lifestyle brand, created to meet the needs of real denim lovers.
Los Angeles California (PRWEB) September 27, 2011
What gives 020608 Tears of Bleu its edge is the infusing of Classic British tailoring which significantly influences the design and manufacturing processes, delivering an authentic premium quality timeless look and ensuring the highest standards of 'Craftsmanship and Flawless Design' by using Japanese and American Developed Denim manufactured in Okayama, Japan and Los Angeles, California.
Key design elements include details such as fully bound inside seams tailored from within, classic tailored dust patches to create a unique modern take on the women's premium turn-up, fully bound inside seam detail, tailored pin stitched back seam.
Most of the washes start from a six months natural worn development process with added external elements to create a unique finish. Each wash is hand finished with a 5–10 hour finishing process time to give a unique authentically worn look. . A skilled finisher then copies each original naturally worn finish by hand and adds other elements to the process to give each finish a unique look. No two washes of 020608 Tears of Bleu are 100% alike.
Within the past year 020608 Tears of Bleu exhibited at Project Vegas and Project New York. These showings have generated a tremendous amount in sales and have seen the brand carried in over 80 high-end specialty boutiques and presence in three International territories.
About the Designer
Caius Olowu (カイアス - オロウ) (Chief Creative Officer and CEO) is an internationally renowned men's and women's wear designer who brings innovation and passion to the fashion industry. Caius's rich history in the industry began with a degree in Tailoring from the prestigious London College of Fashion. Caius was invited as Associate Lecturer at the London College of Fashion and was later appointed Designer in Residence.
Caius has worked for many international labels such as True Religion Brand Jeans USA, True Religion Brand Jeans Japan, John Richmond, New Balance Japan, Diamond Geezer Japan and Levi's Europe. Caius's Women's wear collection has been sold in the United Kingdom, Paris, USA and Tokyo. His collection has long been sought after by many celebrities and has been featured in fashion magazines such as Elle, Vogue, Madam Figaro, Harpers, and Queen. Caius's skills and creative talents have also been used in the music industry, being regularly featured in industry journals, trade publications and newspapers. In 2006, Caius began his tenure as Senior Designer at True Religion Brand Jeans followed by becoming Head of Merchandise and Key Account Manger for True Religion Brand Jeans in Japan, creating specialized products for the Japanese.
2011 sees the launch of 020608 Tears of Bleu Premium Denim and Lifestyle brand -
Caius Olowu (カイアス - オロウ)
###