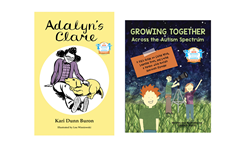 "We are very proud of these books and the service they provide to the autism community." -AAPC President Keith Myles
Lenexa, Ks (PRWEB) February 17, 2016
AAPC Publishing is pleased to announce that two of our bestselling children's books have been named National Parenting Product Awards (NAPPA) 2016 winners! "Adalyn's Clare," by Kari Dunn Buron, illustrated by Lou Wisniewski; and "Growing Together Across the Autism Spectrum: A Kid's Guide to Living With, Learning From, and Loving a Parent with Autism Spectrum Disorder," written and illustrated by Elizabeth Marks, have both been named by NAPPA as "go-to" sources for parents and professionals seeking the best products for children and families.
AAPC President Keith Myles said, "We are very proud of these books and the service they provide to the autism community. Receiving the NAPPA Product Award has only given "Adalyn's Clare" and "Growing Together Across the Autism Spectrum" the recognition they deserve."
"Adalyn's Clare" is a story about a very smart but lonesome fourth grader, who loves animals, science and her therapy puppy, Clare, which gives insight into a child with social and anxiety challenges. "Adalyn's Clare" is recommended for grades 3 through 6. "Growing Together Across the Autism Spectrum" highlights the relationship between a neuro-typical child and a parent on the autism disorder spectrum (ASD.) This well-illustrated children's book provides a conversational starting point for family members to grow together. Both books are available for purchase online at http://www.aapcpublishing.net/.
Kari Dunn Buron, author of "Adalyn's Clare," will serve as keynote speaker at the upcoming Nebraska ASD Network's annual conference in Omaha this April. Buron will address social anxiety and challenge behaviors associated with social cognition. Also as part of the conference; Buron will lead two breakout sessions entitled: "Using the Incredible 5-Point Scale to Teach" and "Six Other Amazing Strategies for Teaching Social Skills and Emotional Regulation." The conference runs April 7-8, 2016. The deadline to register is March 31, 2016.
AAPC Publishing is also excited to announce the upcoming release of "Building Social Relationships 2" by Scott Bellini, which is available now for pre-order!
About AAPC:
Established in 1999, AAPC Publishing specializes in providing mainstream, hands-on knowledge to individuals, families, educators and other professionals regarding topics related to autism spectrum disorders. We are a proud provider of quality resources that offer evidence-based solutions at affordable prices.
Media Contact:
Sara Prusik
Marketing Department
AAPC Publishing
11209 Strang Line Rd.
Lenexa, KS 66215
913.232.4503
sara.prusik(at)aapcpublishing(dot)net