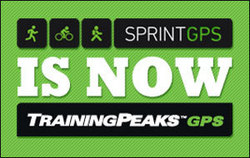 With SprintGPS' world-class mobile tracking application design and user interface - runners, cyclists and walkers of all levels will be able to easily record their time, distance, route, steps, and more! - Gear Fisher, CEO & Co-founder, Peaksware
Lafayette, CO (PRWEB) March 21, 2011
Peaksware, LLC, a leader in fitness communication and the developer of the popular TrainingPeaks® exercise data analyses tools, today announced that it has acquired SprintGPS, the premiere suite of GPS activity tracking applications for the iPhone from Screenmedia.
Already boasting over 100,000 downloads, the award winning, 4+ star rated applications are top sellers in the GPS fitness-tracking category. SprintGPS includes several applications, each able to be moderately customized to track and share workouts: Run Tracker Pro for runners, Cycle Tracker Pro for cyclists, Walk Tracker Pro or Walk Tracker Free for walkers, and Pedometer Pro for counting steps and distance when exercising indoors. The suite of apps will be rebranded as TrainingPeaks GPS.
Additionally, for 2 days only on March 22 and 23, 2011, Peaksware will donate all the proceeds* from the 99-cent download cost equally between the American Cancer Society's DetermiNation, Lymphoma and Leukemia Society's Team in Training and the National Multiple Sclerosis Society's BikeMS - all charity awareness and fundraising programs that support triathlon, running and cycling event training and participation; and that drive community awareness and fundraising for their causes.
Peaksware is launching this donation campaign in an effort to bring more awareness to these three excellent charities, which Peaksware enthusiastically supports with training tools and is a proud contributor – and to demonstrate customer appreciation by making the app downloads available for only 99-cents each.
On March 24, 2011 the download costs will return to $4.99 per app.
The SprintGPS branded app will be phased out and no longer supported after May 31, 2011.
With the inclusion of the SprintGPS fitness tracking applications into the TrainingPeaks family of software, consumers now have one source for all their training and fitness program and data analysis needs. When used in tandem with the Basic (free) or Premium TrainingPeaks subscription plan, consumers are able to:
● Work with a qualified coach or trainer
● Follow a professionally developed training plan
● Use TrainingPeak's always-handy Virtual Coach
● Track their individual nutrition programs
● Record important fitness metrics, like weight and stress
● Interact with a community of other athletes and fitness enthusiasts who are training with similar goals.
"Mobile GPS tracking applications make it convenient and easy for consumers to track their exercise, and Peaksware is constantly innovating to make fitness tracking a seamless part of the training experience," said Gear Fisher, Chief Executive Officer of Peaksware. "With SprintGPS' world-class design and user interface, runners, cyclists and walkers of all levels will be able to easily record their time, distance, route, steps and more using only their iPhone."
TrainingPeaks' website user interface automatically uploads and records exercises using the SprintGPS apps Run Tracker Pro, Cycle Tracker Pro, Walk Tracker Pro, Walk Tracker Free or Pedometer Pro when the exercise period has been completed and saved. The recorded exercise can then be reviewed, analyzed and shared with friends or coaches from any of the TrainingPeaks family of mobile or web software applications including, TrainingPeaks.com, TrainingPeaks Mobile for iPhone and TrainingPeaks.com/m for all other web-enabled mobile devices.
In addition to real-time maps and tracking time, distance, speed, pace, calories, altitude, intervals and splits, and in Pedometer Pro counting steps, each of the SprintGPS apps includes the following compelling features:
● Ghost Runner for racing against yourself using a previous activity
● Photo sharing using the built-in camera to store photos taken along a route
● Audio cues for real-time audio feedback
● Interval training for guidance through some higher-intensity workouts alternating with periods of rest
● Access to iPhone music and for a boost, activation of 'Power Song' feature
● Progress charts to display fitness trending
● Social media sharing options for activities, routes and photos via Facebook, Twitter or Email.
The SprintGPS acquisition builds on Peaksware's industry-leading momentum and innovation in fitness monitoring, analysis and planning. Along with the integration of the SprintGPS applications, Peaksware will continue to support the 90+ hardware devices and mobile applications from third party manufacturers as alternative methods for consumers to track and record their exercise.
*Apple iTunes retains 30% of all download fees.
About Peaksware:
Founded in 1999, Peaksware, LLC, develops software systems to help motivated individuals and professionals achieve health, fitness and peak performance. Customers of their flagship product, TrainingPeaks.com span the entire lifestyle continuum from elite Ironman and Tour de France podium finishers to first time marathoners and everyday individuals looking to take control of their personal nutrition and fitness goals. For coaches, personal trainers, dietitians, physical therapists and medical professionals, TrainingPeaks Professional Edition provides value to their customer through the monitoring, analyzing and planning of physiological data to achieve results. In addition to their own direct to consumer product offerings, Peaksware provides private labeled solutions to companies such as Timex; events such as the Rock 'n' Roll Marathons Series and the New York City Marathon; and publishers such as Runner's World and Outside Magazine. For more information or to discuss business development opportunities, contact info(at)peaksware(dot)com.
About Screenmedia:
Screenmedia is a Bafta award-winning developer of mobile solutions for iPhone / iTouch and iPad. They build great products like SprintGPS for companies throughout the world. Screenmedia also works with some of the best companies in the UK, including The BBC, Channel 4, STV, NHS and Scottish Natural Heritage. Their growing team of 14 highly talented, passionate producers, designers, architects and developers, works from a studio based in Glasgow, Scotland. They create great user experiences, bringing together beautiful UI design with high-quality content and leading functionality. For more information, visit http://www.screenmedia.co.uk.
# # #