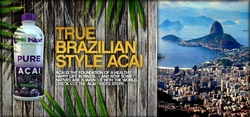 One of our main focuses while developing the new digital platform, was to create a true brand experience, on top of our product offerings
San Diego, CA (PRWEB) March 24, 2011
Acai Roots™, a leading supplier of natural and organic Brazilian acai products, announced today the launch of its new website. The redesigned Acairoots.com renovates the way in which Acai Roots™ interacts with the world on the web.
With an entirely fresh appearance and format, the new site reveals Acai Roots™, yet to be officially introduced, new product-line and packaging. It has a complete rundown on the company's social-responsible and sustainable business approach, and a section devoted to educating visitors about their core product - acai.
In addition, visitors can now meet Acai Roots' current team of brand ambassadors (each has a personal profile page), find out about partnerships and be on top of the company's existing projects. Of course, guests can also follow live social media feeds.
"Our new website illustrates well where Acai Roots™ stands today. It is a summary of what we have constructed as a brand," said Igor Pereira, Acai Roots™ CEO. "In addition to offering our top quality products to its visitors, the new Acairoots.com site is intended to be a portal for everything associated with acai; from related products that consumers might be interested in to being a media resource, and more," added Pereira.
"One of our main focuses while developing the new digital platform, was to create a true brand experience, on top of our product offerings," added Pereira.
Among many new features to the new Acairoots.com are:

A new Navigation Menu.
Bringing social media conversation/feeds into the home-page.
Acai Roots Team of Brand Ambassador page with profile and videos.
New e-commerce components - including the ability for consumers to purchase other. acai related products, other than the ones offered by Acai Roots™.
New videos, images and banners.
A section devoted to covering the story, benefits, and scientific related studies about acai.
A section dedicated to the company's sustainable and socially responsible business approach.
"We want our new site also to serve as a hub for Acai Roots™ brand loyalists," said Marco Rega, Sales Director at Acai Roots™.
Further to the product selection and unique acai related content in the new site, the corporation seeks to establish a two-way dialogue that connects and grants visitors with a true brand experience.
"I am extremely pleased and excited to see Acai Roots™ move into the world of converging media," added Pereira, expressing his satisfaction with the outcome of this year-long project.
Though the new web site is a big step into Acai Roots™ digital future, the company expects to continue the roll out of new exciting features and additions, with even more enhancements planned ahead.
About Acai Roots
Acai Roots™ (http://www.acairoots.com) offers a full line of delicious and healthy acai berry products, formulated to exacting standards by Brazilians who were born and raised on a healthy diet of acai. Acai Roots' wild-harvested acai from the northern Brazilian state of Para is considered the cream of the crop and is simply the best 100% natural acai available anywhere. This top-quality acai is available in a variety of forms, including pure juice, frozen pulp and sorbet, in concentrated energy shots, and in freeze-dried supplements. In addition to promoting a healthy, active lifestyle, the founders of Acai Roots are also deeply committed to protecting the rainforests of Brazil, and improving living conditions in Brazil's densely populated urban barrios, called "favelas". Besides practicing sustainability, Acai Roots actively supports projects like Rhythm of Hope, which provides life mentoring through programs including Projeto Cultural Arte Consciente, and other programs working to break the deadly cycle of drug abuse and violence.
For more information, please visit http://www.acairoots.com. Youcan also Like Acai Roots on http://www.facebook.com/acairootspage or follow us via http://twitter.com/acairoots.
Media Contact:
Rodrigo Correa
rbosco(at)acairoots(dot)com
(866) 401 2224
###