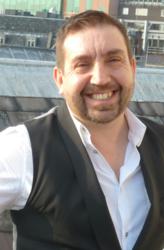 Advising listeners how to write a better CV, get an interview and make the right career change
London, UK (PRWEB UK) 4 April 2012
On April 10th 2012, Superstars founder Steve Hutson will appear on London's Colourful Radio to talk employment, staffing and career changes with presenter Juicy Jaxx Aka Jacqueline Shepherd. Steve will be discussing the current state of the job market and talking about how unemployed listeners can 'add value' and make the career change that is right for them.
This interview will be the first a series of appearances on Colourful Life with Juicy Jaxx. In the coming weeks Steve will be answering listener's questions on all aspect of job hunting and career development.
Steve will be there to talk about how to handle an interview, how to explain any gaps in your employment history and the best way to make your CV really sing. Listeners will learn how to make the most of their existing contacts and how to make new ones through research and referrals.
Steve and Jaxx will also be taking calls so listeners can ask for advice specific to their situation. Steve has over 15 years experience in helping people to find their ideal career and is excited to be able to offer his advice to the Colourful Radio audience.
The series will build towards a special event hosted by Superstars and Colourful Radio that will give listeners the chance to meet employers in the digital and creative sectors to receive help and advice as well as valuable contacts and potentially a change of career.
Colourful Life with Juicy Jaxx is on Colourful Radio Mondays and Tuesdays between 10am and 1pm. You can listen live to Colourful Radio on DAB digital radio across London, online at http://www.colourfulradio.com or at http://www.facebook.com/colourfulradio or via your mobile. iPhone and iPad users can download Colourful Player in the AppStore. Android and Blackberry users, please go to http://www.colourfulradio.com/mobile