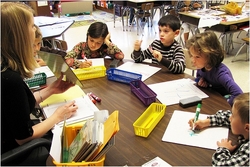 The Hawaii Summer Reading Contest is a great way that Achieve3000 helps students improve their reading skills, says Achieve3000 Marketing VP Michael Fleischner.
Lakewood, NJ (PRWEB) May 18, 2010
Achieve3000, publisher of KidBiz3000™ and TeenBiz3000®, offers a fun, interactive way for Hawaii's students to not only avoid "summer slide," but actually increase their reading skills through the use of technology. Children who stop reading over the summer months often lose the skills they developed throughout the school year. But research shows that when children continue to read material designed for their individual reading levels, they achieve more.
Reading non-fiction over the summer is a great way to make progress toward developing literacy skills – while learning about timely subjects, from First Ladies to 3D movies. This summer, Achieve3000 is helping Hawaiian children improve literacy with the Summer Literacy Contest. Students who participate can win a free MP3 player – and improve reading skills with the same award-winning technology program they've been using all year long: KidBiz3000/TeenBiz3000.
Students can log on each day through their local libraries, home computers, and other Internet-enabled locations to access current events leveled to their specific reading ability. The student, who completes the most reading activities and scoring above 75%, will win a free MP3 player awarded through their school. Multiple choice questions, writing prompts, and a nation-wide poll keep students engaged while teaching reading comprehension and writing best practices.
The State of Hawaii is committed to technology in the classroom, and Achieve3000 is proud to partner with more than two hundred schools across the Islands to increase literacy and state test scores. To learn more about reading achievement success stories in Hawaii's classrooms or the Hawaii Summer Literacy Contest, contact Michael Fleischner at 732-367-5505 ext.119 for more information.
About Achieve3000
Achieve3000, founded in New Jersey in 2000, is the leader in online differentiated instruction. Its solutions deliver online differentiated literacy curricula proven to increase reading comprehension, fluency, vocabulary and writing proficiency for students in grades 2 through 12 and also for adult learners. Through its proprietary software engine, the company uses the Internet to provide tailored assignments to each student in the class based on his or her reading level. The company's solutions are delivered in nonfiction, current event format and are based on decades of scientific research. They include KidBiz3000 (a reading and writing program for grades 2 through 5), TeenBiz3000 (a reading and writing program for grades 6 through 12) and Spark3000® (a reading and writing program for adult learners). Achieve3000 is located in Lakewood, N.J., for more information, visit http://www.achieve3000.com or phone 800-838-8771.
# # #