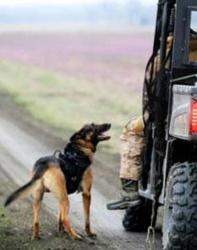 When you see these dogs operating in the capacity they can, using their nose and finding explosives, your level of comfort (in battle) absolutely skyrockets.
Irving, TX (PRWEB) May 30, 2013
Security professionals typically caution against depending too heavily on the presence of a dog for home security, preferring the reliability of electronic alarm systems and other deterrents. For a soldier on the battlefield, though, there are few things more comforting than having a highly trained Special Operations Forces dog by your side.
That's just one reason why the Electronic Security Association (ESA) has selected the Warrior Dog Foundation as the official charity for ESA Gives Back at this year's Electronic Security Expo (ESX 2013) in Nashville, Tenn. ESA Gives Back has a tradition of supporting our armed forces through the charitable and philanthropic program, gathering more than $20,000 in pledges last year for the Wounded Warrior Project.
This year, the spotlight is on Special Operations Forces dogs. The Warrior Dog Foundation was established by former Navy SEAL Mike Ritland as a way of supporting battle-tested dogs who have been injured or retired from active duty, as well as the community of Special Operations Forces and their families. The foundation also works to educate the public about the importance of the dogs, and the role they fulfill in battle.
Ritland, who also trains dogs for special operations, will be present at ESX along with Rico, a warrior dog currently awaiting deployment. They will hold an onsite signing for Ritland's book "Trident K9 Warriors." For a $50 donation, Ritland will sign a book, and Rico will add his own signature by biting the cover. Dog tags will also be given to those who make a donation of $20 or more.
Warrior dogs like Rico are typically Belgian Malinois, sometimes referred to as Belgian Shepherds. They're chosen for their size, speed, agility, tenacity and temperament, not to mention an extraordinary sense of smell.
They are carefully selected, highly trained battlefield partners capable of sniffing out explosives, tracking insurgents, pursuing and apprehending attackers, and thriving in conditions that would be unfavorable for humans. They wear Kevlar vests, and often don night-vision goggles when the situation calls for it. They've even been known to jump out of planes along with their handlers.
Much of what these special operations canines do is classified. For example, it's quietly acknowledged that one dog, Cairo, was part of the raid on Osama Bin Laden's compound, though details are kept under wraps. One thing is certain, though: Dozens of special operations dogs have died in battle, and even more have sustained serious trauma, so that human lives could be saved.
Ritland knows from personal experience the difference these dogs make in the field. It puts an entirely new spin on the term "man's best friend."
"When you see these dogs operating in the capacity they can, using their nose and finding explosives, your level of comfort (in battle) absolutely skyrockets," he said in a recent interview on 60 Minutes. "You know that you've got one of the best-trained, best equipped working dogs out in front of you that has your back."
Rico has become a bit of a celebrity. Not only did he appear with Ritland on 60 Minutes, demonstrating a warrior dog's capabilities, but according to the Warrior Dog Foundation's Facebook page, Rico is the model for a warrior dog who plays a pivotal role in the upcoming "Call of Duty: Ghosts" interactive game.
He can't let it go to his head, though. Ritland told 60 Minutes that while Rico is on the sidelines for now, "that's always subject to change. He's better served by serving our country than he is by being my personal dog. When the time comes for them to answer that call, I'm always happy to see them go do something for the greater good."
More information is available at the foundation's website, http://www.warriordogfoundation.org.
ABOUT ESA
Established in 1948, the Electronic Security Association (ESA) is the largest trade association representing the electronic life safety and security industry. Member companies install, integrate and monitor intrusion and fire detection, video surveillance and electronic access control systems for commercial, residential, industrial and governmental clients. In cooperation with an alliance of chapter associations, ESA provides technical and management training, government advocacy and delivers information, advice, tools, and services that members use to grow their businesses and prosper. ESA may be reached at 888-447-1689 or on the Web at http://www.ESAweb.org.
ABOUT ESX
Owned, directed and sponsored by industry leading trade associations, ESA and CSAA, ESX is the education and networking event for security integration and monitoring companies. ESX offers the highest quality and most comprehensive seminar program, the most interesting and enjoyable networking events and the most focused exposition in the industry. ESX attracts the biggest, best and most progressive installing and monitoring companies in the world to meet with hundreds of exhibiting electronic security equipment vendors and industry service providers. For more information, visit http://www.ESXweb.com.