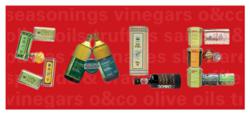 New York, NY (PRWEB) June 22, 2011
Enliven your taste buds through a completely innovative concept from Mediterranean food merchant O&CO. with its limited time summer sale on selected olive oils, vinegars and specialty food exclusive to O&CO.
Having exponentially expanded from its original passion, the olive tree, O&CO. specializes in savory olive oils and vinegars, seasonings, sauces, sweets, spreads and skincare with a select variety currently on sale ranging from 10-50% off.
Explore O&CO.'s essential summer sale to find unique and alluring products including O&CO.'s L'Extrême Chocolate Hazelnut Spread. This decadent spread is smooth and creamy with an intense chocolate flavor. Now at 20 % off, this rich spread is perfect for fondue, hot chocolate base or enjoyed on toast!
Or spice up sultry summer gatherings with O&CO.'s best-selling basil olive oil, lemon olive oil and classic balsamic vinegar. Displayed in a stainless steel stand, these three refillable 3.3 fl. oz. bottles are a charming kitchen accessory and at 30% off, the perfect gift.
O&CO.'s Basil Specialty Olive Oil is made with fresh basil gathered at the height of its season. The essence of real basil is at your fingertips for use on tomatoes, fresh cheese, pasta, pizza and white meats. Enjoy this flavorful olive oil at 10 % percent off.
To receive these limited and extensive sales visit the O&CO. website to navigate through pages of tantalizing deals or bring the Mediterranean experience to you through O&CO.'s network of boutiques. Located in over 14 countries around the world, each boutique is committed to bringing you the tastes and flavors of the Mediterranean. Use O&CO.'s boutique locator to discover a location near you and find additional unique sales within each boutique.
With a respect for tradition, O&CO. cherishes originality where tastes and smells converge to delight the senses. Emerging from the high Alpes-de-Haute, in the village of Mane, O&CO. became the brainchild of two men united around a common passion, the olive tree. Ten years since its creation, O&CO. has forged a new image of the olive tree, rooted in tradition but firmly anchored in the modern world. Their completely innovative concept has spread to seasonings, sauces, pastas, sweets, spreads and vinegar to bring the pleasures of the Mediterranean to you. View O&CO.'s full line of exclusive products at http://www.OliviersandCO.com.
###