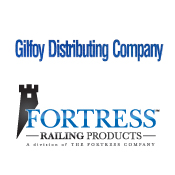 We have been focusing on providing our customers with not only a trusted brand but also with products that are superior in design and quality
Richardson, TX (PRWEB) June 03, 2013
Fortress Railing Products, a trusted leader of innovative railing products, is proud to announce its partnership with Gilfoy Distributing Company, a respected wholesale distributor of building materials in New England.
Established in 1935, Gilfoy Distributing continues to be a family owned and operated company currently in its fourth generation. They pride themselves in extensive product and industry knowledge as well as excellent service and support to their customer base. Their expertise is invaluable in providing their customers accurate and insightful information to ensure the best product recommendations for each application.
"We are excited about working with Gilfoy Distributing which has a strong track record of exceptional customer service," said Erik Flick, General Manager of Fortress Railing Products, "and are also recognized experts in the New England market."
Fortress Railing Products solidified its place as an industry leader with its innovative pre-welded railing systems, which includes Fortress Fe26 Iron Railing and Fortress Al13 Aluminum Railing. Other quality railing products include Fortress Railing Balusters, Fortress Pure View Glass Railing and FortressAccents Post Caps & LED Lighting. Most recently, Fortress Railing Products debuted its new Black Sand premium textured finish, adding a black matte option to its already robust finish offerings.
"We have been focusing on providing our customers with not only a trusted brand but also with products that are superior in design and quality" said Jed Gilfoy, owner of Gilfoy Distributing Company. "We feel that we have found exactly that in Fortress Railing Products and we are confident that it will be a great addition to the Gilfoy family of products."
About Fortress Railing Products:
Fortress Railing Products, a division of The Fortress Company, is committed to developing innovative, quality products specifically for the railing industry. It is very proud of its vast distribution network, commitment to code testing, innovative product design and the strength of the Fortress Railing Products brand. As a respected category creator and industry leader, Fortress Railing Products offers a complete line of railing solutions to meet virtually any need.