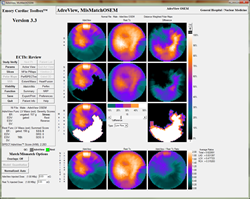 AdreView Tools is the newest application to the Emory Toolbox and will be automatically part this application. -- Michael Lee, CEO, Syntermed, Inc.
Atlanta, GA (PRWEB) June 05, 2014
Syntermed, Inc.'s software AdreView Tools, is now an option on GE Healthcare Xeleris 3.1 Processing & Review Workstation for SPECT studies. This application, part of the Emory Toolbox, performs a quantitative analysis and display of SPECT 123I-mIBG data sets. With AdreView Tools, clinicians now have a quantitative, numeric score to help identify mortality risk and aid in the diagnosis of congestive heart failure. Studies have shown an abnormal myocardial sympathetic innervation is associated with increased mortality and morbidity rates in patients with heart failure.(1) Nuclear imaging techniques can be used to provide detailed information for the detection of early phase heart failure as well as for monitoring the effects of new therapeutic interventions.
Predicting the likelihood of sudden death from congestive heart failure (CHF) is challenging. Now the combination of Xeleris 3.1 with AdreView Tools provides an advanced cardiac diagnostic tool for the quantification of SPECT studies, namely the quantification of 123I-mIBG uptake. AdreView Tools also has the ability to assess 123I-mIBG uptake when both 123I-mIBG and perfusion images are available via a Match/Mismatch screen. The differences are reflected in polar map displays. Renormalized maps are created when actual injected doses for the 123I-mIBG and the perfusion studies are entered. Respective ratios of 123I-mIBG/perfusion are calculated and displayed SPECT Heart to Mediastinum Ratio – the calculation of 123I-mIBG SPECT H/M ratio from transaxial images. Calculation of the SPECT H/M ratio is enabled by the EmoryToolbox. Tools are provided to locate and identify the heart and define the mediastinum, and the mean count values for the heart and mediastinum and the ratio of heart to mediastinum are displayed.
AdreView Tools is a diagnostic nuclear cardiology application which will be showcased at the SNMMI annual meeting June 7, St. Louis, MO. To view a demo, visit the GE Healthcare booth 507 or Syntermed, Inc. booth 405.
About Syntermed, Inc.: AdreView Tools is the newest application to the Emory Toolbox and will be automatically part this application. Since 1999, Syntermed, Inc., a privately-held nuclear medicine imaging and informatics software company based in Atlanta, GA, has served nuclear cardiology and nuclear medicine labs through all major OEM imaging providers and leading value added resellers, as well as, direct. Syntermed software quantifies and delivers decision support for the analysis of SPECT or PET images of the heart and brain. Emory Toolbox, now in its fourth generation, is one of the most widely applied methods of cardiac imaging, used in labs worldwide. Version 4.0 is distinguished by Smart Scores™, a proprietary algorithm. Additional advanced cardiac tools, SyncTool™ and AdreView Tools are expanding the capabilities of the nuclear cardiology lab.
About GE Healthcare: GE Healthcare provides transformational medical technologies and services to meet the demand for increased access, enhanced quality and more affordable healthcare around the world. GE (NYSE: GE) works on things that matter - great people and technologies taking on tough challenges. From medical imaging, software & IT, patient monitoring and diagnostics to drug discovery, biopharmaceutical manufacturing technologies and performance improvement solutions, GE Healthcare helps medical professionals deliver great healthcare to their patients.
1. Leimbach WN Jr., Wallin BG, Victor RG, Aylward PE, Sundlof G, Mark AL. "Direct evidence from intraneural recordings for increased central sympathetic outflow in patients with heart failure." Circulation 1986;73:913–9.
*AdreView Tools is not yet CE marked. For countries that require CE marking, this product cannot be placed in the market or put into service until it is made to comply with the Medical Device Directive requirements for CE marking.
GE, the GE Monogram, AdreView and Xeleris are trademarks of General Electric Company.
About Heart Failure: Nearly 5 million Americans are living with Congestive Heart Failure (CHF) according to Emory University's Vascular Center, Heart Failure. African Americans are more likely to develop heart failure than other races. Each year, heart failure generates at least 11 million physician visits and more hospitalizations than all forms of cancer combined. [Emory Toolbox is a trademark of Emory University.]