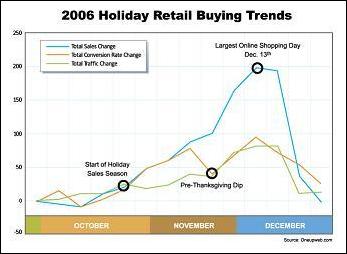 Lake Leelanau, MI (Vocus) January 12, 2007
Online marketing firm Oneupweb, today released its study, 2006 Holiday Online Retail Buying Trends, revealing data from more than a million consumers interacting with Google, Yahoo and MSN advertising. The study tracks traffic, conversion rates and sales across 14-weeks of the holiday sales season and is available free from Oneupweb.com. Most importantly for e-commerce marketers and internet advertisers, the study provides them with paid search marketing best practices in response to the trends revealed.
For example, the study provides several milestones for implementing pay-per-click (PPC) advertising campaigns, helping internet retailers know when to test campaigns, estimate peak volumes and have completed campaigns ready for the season. It provides strategic bidding advice for peak sales weeks and helps online marketers continue to sell as the holidays draw close.
"We set out to validate some of the speculation surrounding the 2006 holiday season online," says Oneupweb CEO, Lisa Wehr. "E-commerce companies have their own season, and it starts much earlier than many online retailers believe. This study demonstrates the importance of having campaigns tested and ready for holiday shoppers by Halloween."
In addition to the week-by-week analysis, Oneupweb focuses attention on several critical days of the season: Thanksgiving, Black Friday (the Friday after Thanksgiving), Cyber Monday (the Monday after Thanksgiving), Christmas Eve and Christmas Day.
Oneupweb's study also answers the questions, "When is the highest sales day?" and, "When does the online market effectively dry-up?'" Wehr explains, "The analysis supports some theories about the importance of Cyber Monday and dispels some misconceptions about conversion rates for the week before Christmas Day. Because the data is generated by millions of consumers across a variety of retail categories, retailers can get a better view of the overall advertising trends for Google, Yahoo and MSN."
The 14-page study includes easy-to-read charts accompanied by thorough analysis, showing the following:
The start of the holiday season
Online holiday shopping peaks
A pre-Thanksgiving dip in traffic and sales
The effect of last-minute shoppers on the week before Christmas
A comparison of five important days of the holiday season
"The online retail market is still evolving, by responding to changes in consumer preferences," cautions Wehr. "While next holiday season may have a few surprises of its own, online retailers armed with the best practices outlined in this study will be better prepared to adapt to them."
About Oneupweb
Oneupweb has been an innovator in online marketing for more than a decade, creating integrated online marketing plans that include natural search engine optimization, paid search marketing, podcast production, online market research, marketing analytics and more. An award-winning firm, Oneupweb was named a 2006 Michigan Top 50 Company to Watch and is the only three-time winner of the prestigious ClickZ Best Search Engine Marketing Vendor Award. CEO, Lisa Wehr, an Ernst & Young Entrepreneur of the Year, has been named to BtoB Magazine's Who's Who List three years and is recognized as a Leader & Innovator by Lawrence Technological University. The company publishes an SEO / SEM newsletter OnlineMarketingBrief.com and a blog named StraightUpSearch.com. Oneupweb is a privately held company located in Michigan. For more information on Oneupweb, please contact 231.256.9811 or visit Oneupweb.com.
###