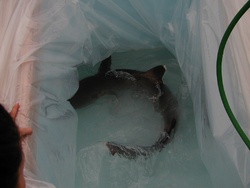 "We're very pleased to say that the White-tip arrived safely and is enjoying her new home in California. We could not have done this without the help of everyone at Grayling."
Alpharetta, Georgia (PRWEB) July 27, 2010
(This event took place in August 2004) For a five foot long White-Tip Reef Shark, flying was the fastest way to travel from Tampa, Florida, to Long Beach, California. Typically known to range a few square miles, this reef native had to travel over two thousand miles to its new home in California. Safe transportation was a problem that Paul Clarkson, then Assistant Curator of Fish and Invertebrates at an aquarium in Long Beach California, had to creatively solve. Paul was responsible for the White-tip Reef Shark's first class flight across North America.
White-tips are a long, thin shark with a second dorsal fin nearly as big as the first with both fins and the top of the tail fin tipped in white. Their teeth are small, narrow and extremely sharp, best suited for holding prey. White-tips are very persistent and jam themselves into tight quarters to hunt for food. They can grow to a bit over seven feet in length. This White-tip was five feet long and needed a three foot by six foot tank to safely protect it during its six hour transport. The tank also had to protect from the temperature drop in the airplane's cargo area so a customized, insulated container was fabricated from plywood and foam board. To make the container liquid-tight, the biologists turned to Grayling Industries, a company that specializes in intermediate bulk containers.
"We solved the temperature and protective crate requirements, but needed an economical solution for making the container liquid-tight," said Clarkson. "We contacted several plastic bag manufacturers and none could make an extra-durable 'shark-proof' liner in the size and configuration we needed. One of these bag manufacturers referred us to Grayling Industries and put us in touch with Ken Ross, a Territory Manager for their Guardian liner products."
"This was not a typical liner request, but we were flattered that the aquarium approached us to help solve their problem," said Ross. "Grayling's products are normally used for shipping industrial or commercial materials in intermediate bulk containers or bulk bags. A liquid liner to protect a living shark during transport was a unique challenge."
Grayling's Guardian liquid liners are typically multi ply and made from custom flexible film materials to meet customer's protective requirements.
"We have chemical, heat, barrier and moisture resistant films, but we didn't have a shark resistant film. We utilized our most durable co-extruded polyethylene material in the construction of this liner," said Ross
The final product was a 2-ply, liquid-tight, form-fit liner that matched the outer crate perfectly. There was no danger of the film folding or overlapping onto the shark, minimizing the risk of the liner impeding the movement of the animal.
"Grayling delivered the custom liner in a short period of time, and it performed flawlessly." Clark added, "We're very pleased to say that the White-tip arrived safely and is enjoying her new home in California. We could not have done this without the help of everyone at Grayling."
About Grayling Industries:
Grayling Industries is a North American manufacturer of specialized flexible film products for industrial applications. Markets served are industrial packaging and environmental safety. Primary products are intermediate bulk containers and liners and products for contamination control on asbestos abatement projects. Brands include; Guardian™ IBC container liners for liquid and dry applications, PaperIBC™ containers and Avail™ glovebags, Control™ chemicals, D-Con™ disposable showers and Durapax™ disposal Bags for asbestos abatement.
Contact:
Ben Greene, Marketing Manager
770-751-9095 X 121
# # #