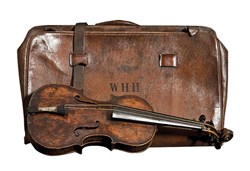 Last chance to see the Titanic Violin, 'the Greatest Titanic Artifact' at the Titanic Museum Attraction Branson. Exhibit must close on Saturday, September 7th
Branson, MO (PRWEB) August 14, 2013
Because of unprecedented interest in the Titanic Museum Attraction's exclusive exhibit of Titanic band leader,Wallace Hartley's iconic Titanic violin, arrangements have been made to extend the exhibition until Saturday, September 7th, announces Titanic Museum Attraction owner, John Joslyn.
"Since going on display at the museum attraction more than 18,000 guests in eleven days have come to see for themselves what everybody's talking about. Interest is so high, in fact, that on many days we're sold out. As a result, the caretakers of the priceless treasure, Henry Aldridge & Sons in London, have given us more time to show more guests what has been hailed as the greatest Titanic artifact discovery ever made," says Joslyn.
"This is the actual violin Wallace Hartley was playing as Titanic slipped away," continues Joslyn. We're proud and humbled to have been chosen as the world's only exhibitor of this historic Titanic Violin and hope all of our Ozark Mountain visitors take time to see it."
Because of the importance of this event, special ticketed, VIP Tours of the Wallace Hartley Violin exhibit are offered daily beginning at 8:30 a.m. These VIP admissions are limited to only 25 persons each day and reservations are Required.
Regular admission ticket holders will begin boarding daily at 9 a.m. Guests can make reservations by calling the reservations department at (800) 381-7670 or book online at http://www.titanicbranson.com
Additional information about the Wallace Hartley Violin Exhibit at the Titanic Museum Attraction can be found online at http://www.titanicbranson.com or call (800) 381-7670.
Media: For high resolution digital images of the Wallace Hartley Titanic violin, and for additional information about the museum, exhibit tours and interviews, contact Mary Kellogg at 417-334-9500 or Mkellogg10@aol.com