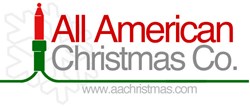 All American Christmas Company is now offering 10 percent discounts on their entire inventory of LED Christmas Lights, Mini Lights, Icicle Lights, Patio Lights, and more when purchased online at http://www.aachristmas.com.
Sparta, TN (PRWEB) August 19, 2013
Nothing sets the mood like strings of Christmas lights. Whether it's a few artfully used in a dorm room, the neighbor's LED Christmas light display at Christmas time, fake icicles in a desert climate, or the tactical lights of Maxwell Air Force Base, string lights subtlety say what words cannot. And no one knows this better than All American Christmas Co.
All American Christmas Company is now rewarding their loyal shoppers who order online with 10 percent discounts on orders of $40 or more at aachristmas.com, when they use the promotion code save10.
The Tennessee based All American Christmas Co has hands on experience with every product they sell, from the smallest light clip to the largest displays. In fact, they have twenty-five years of experience, including ten on the web (Step aside, Twitter and Zynga). If you want a better source of lights, you'll have to go to Paris (Don't go to the Bermuda Biological Station or Universal Studios; they use All American Christmas Co lights too).
Of course, Christmas lights are a relatively new addition to the human condition. Early celebrators decorated their trees with tinsel and bright decorations, showing the endurance of the human spirit over cold European winter. Soon, they would use candles, a dangerous and tradition. (Families would light them for a few minutes a night and watch vigorously, which was as exciting as it was unsafe).
Electric lights, the herald of modernity, were created by the light bulb's creator, Thomas Edison. Edison, always the trickster, didn't use LED lights, but he did something even more impressive: he decorated Menlo Park with lights that were powered from eight miles away. Nearly a century and a decade later, electric lights would be easily purchasable, in a variety of colors, from the comfort of one's own home.
(As recently as 1910, electric lights would cost the equivalent of three hundred dollars per string. Still cheaper than inventing them, but it makes one appreciate All American Christmas Co all the more.)
Not that All American Christmas Co only sells Christmas lights; their designs are beloved by Coral World, Orange Co. Fair, GE Supply the Alabama Shakespeare Festival, and even Harvard University. When it comes to keeping America well lit, Edison may have started the craze, but All American Christmas Co is keeping the lights on.
Lights can be purchased at http://www.aachristmas.com. Minimum order is $25.00 online. Phone (931) 836-1212, Fax (931) 836-2002. Minimum phone order: $100.